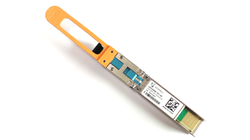 SiFotonics 100G extended reach SFP56-DD products are industry first small form-factor transceiver supporting 100G 40km, 8x100G-ER1-nWDM O-band passive WDM, -40 to 85C operation temperature, enabling broad applications such as 5G xhaul, Access, aggregation, transport and DCI.
ANOVER, Mass. (PRWEB) February 02, 2023
SiFotonics Technologies Co., Ltd, a pioneer and global leader in optical networking solutions based on silicon photonics integrated circuits and components, today announced general availability of 100G-ER1-40 and 8x100G-ER1-nWDM SFP56-DD optical transceivers, which will be deployed for new generation switch and routers supporting broad optical networking applications, such as 5G xhaul, broadband access aggregation, optical transport and data center interconnects (DCIs).
The new class of extended reach SFP56-DD products are designed with several industry leading performance and features, including:

Industry first small form-factor pluggable (SFP) transceiver supporting single-lambda 100G over extended reach, enabling new generation of high port density switch and routers with 100G connectivity beyond 10km.
Industry high sensitivity Ge/Si APD receiver based on SiFotonics proprietary silicon photonics platform supporting single-lambda 100G over 40km, in full compliant with 100G-ER1-40 specification defined by 100G Lambda MSA (https://100glambda.com), backed by over 45 industry leading companies
State-of-the-art DSP and optimized design supporting multi-rate applications, including timing sensitive OTN applications
8x100G-ER1-nWDM option supporting O-band passive WDM applications, and fully inter-operable with SiFotonics industry leading 8x100G-ER1-nWDM QSFP28 product family (https://bit.ly/3HH33cw ), enabling 800G total bandwidth capacity over single pair of fiber, or 400G over single fiber, with pay as you grow economics with low cost passive WDM filters.
The 8 wavelengths supported by 8x100G-ER1-nWDM are defined to inter-operate with up and coming 400G-ER4 and 800G-ER8 standards so a break-out application between 100G and 400G, or 800G are supported.
Wide range of operation temperature support from -40 to 85C, enabling outside plant applications, extending 100G connectivity to 5G front haul and broadband access applications.
The newly available SFP56-DD product family also include 100G long-reach variant supporting 10km applications, and compliant with IEEE 100G-LR1 standard, with same wide temperature range support.
About SiFotonics Technologies Ltd.
SiFotonics Technologies Co., Ltd. is a leading optical solution provider for ultra-high speed data center and 5G wireless optical networking applications with advanced silicon photonics integrated circuits and components as well as customer specific solutions. SiFotonics was established in 2007 in Massachusetts, US, and has offices and facilities at Boston, San Jose, HsinChu (Taiwan), HongKong, Nanjing, Beijing and Shanghai. SiFotonics web site is http://www.sifotonics.com.