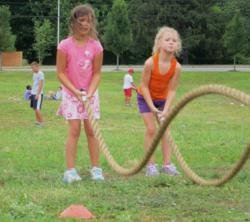 East Providence, RI (PRWEB) May 14, 2013
212 Health and Performance sponsors the East Providence Prevention Coalition's Family Fun Day on Saturday, May 18, 2013. The event will take place on the grounds of the Crescent Park Carousel, located at 700 Bullocks Point Avenue in Riverside. The event is age appropriate for toddlers to twelve year olds, however all family members are welcome to attend.
The main attraction will be a competitive obstacle course run by 212 Health and Performance. All participants ages 5-12 are welcome to participate and compete against others in their age group for the fastest time. Top winners will be awarded prizes which will be sent through the mail. Some prizes include, but are not limited to, free admission to near-by attractions such as mini-golf, the zoo, go-carts and laser tag, toys, and gift certificates to local businesses. Other children's activities include: a ride on the carousel, face painting, washable tattoos, coloring, potato sack races, dress up races and lollipop pull. An acoustic guitarist will entertain youngsters from 11am-1pm with songs they love. Famous children's characters will be available for youth to take pictures with and there will be food available for purchase.
The event runs from 11am-3pm with registration open from 11am-2pm. Admission is $5 and the first 450 participants will receive a prize bag for participating. Admission includes a free carousel ride, access to all children's activities including the obstacle course. Raffle tickets will be sold and prizes include, but are not limited to, autographed Red Sox and Patriots pictures, giant stuffed animals and other toys, Trinity Reparatory Theater tickets, RISD Museum Family Day passes, and gift certificates to other local businesses.
The event is also sponsored by Navigant Bank, the East Providence Police Department with support from the Crescent Park Carousel Commission. For more information or for questions about weather cancellations, contact the EPPC at 401-435-1923.
About 212 Health and Performance:
212 Health and Performance is built on the premise that within each of us lies the ability to push beyond what we think possible. True progress lies between the familiar and the unfamiliar. When the temperature of water raises just one degree it is transformed from water to steam and its ability to power, transform and create change is generated. This is our philosophy. That going just a bit further, taking one more step, lasting one extra second will mean the difference between same and change. Everyone is here for a different reason, this is your journey, this is your change. 212 Health and Performance. Powered by You.