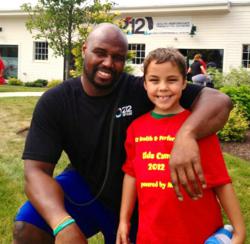 East Providence, RI (PRWEB) February 19, 2013
What do a professional BMX rider and an NFL retiree and owner of a local fitness center have in common? The both consider helping the community of which they are a part a top priority. "Don't forget where you came from," is a mantra that Kevin Robinson, professional BMX rider, and Kerry Taylor, NFL retiree and owner of 212 Health and Performance, live by.
Kevin started the K-Rob Foundation with the mission to positively transform the lives of deserving children in the East Bay and surrounding communities. Helping one family at a time, the K-Rob Foundation provides financial assistance to get kids involved with athletics as a means for them to learn discipline, focus, teamwork and healthy living habits.
Kerry Taylor founded his gym, 212 Health and Performance, with the mission to help people reach a new level in their lives. 212 represents the boiling point of water- that one extra degree makes all the difference. 212's purpose is not only to provide results-driven health and fitness programs to adults, but also to youth. His team created both a High School Athlete's Program and After School Program to make sure the youth of the surrounding communities would have motivating, fun, and engaging programs to participate in.
Participating in athletics as kids played a pivotal role in both Kevin and Kerry's paths to success and they are dedicated to helping share that with others.
212 Health and Performance will be hosting The K-Rob Foundation's 3rd Annual Wine Tasting Event on Friday, 3/1/13 from 7pm-10pm. Complete with live and silent auctions, a red carpet, live music and delicious appetizers, this event will be a great time and a huge success. All the wine and appetizers will be donated by area businesses as well. Tickets are $35 and all proceeds will go directly to the K-Rob Foundation's efforts. For more info, please visit http://krobfoundation.org or 212healthandperformance.com/events.