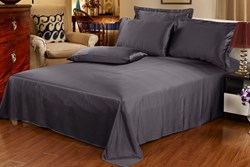 Our commitments to customer satisfaction and service are Lilysilk's top priorities.
(PRWEB) September 19, 2013
Recently, lilysilk.com, a leading online supplier of silk bedding, is excited to conduct a survey among American housewives on 'Top 10 Best Bed Sheets 2013'. Proudly, the result shows that female friends tend to love silk sheets more, and approve Lilysilk luxurious 22mm seamless silk flat sheet. According to lilysilk CEO, Mike Lee, their flat sheets have strength and advantage to be displayed on the list.
With years' experience of manufacturing silk bedding, Lilysilk has understood what customers need, and explored silk bedding market to dig out much more practical bed sheets for customers. There is no doubt that Lilysilk bed sheets are on the 'Top 10 Best Bed Sheets 2013' list. Lilysilk flat sheets are available in 16 colors and all sizes. Hand crafted from 100% pure mulberry silk, these smooth silk flat sheets have something in common: rich fabrics, fine tailoring, smooth feeling, ultimate comfort with huge benefits. Moreover, lilysilk always offers high quality flat sheets at affordable prices, which is the big feature of Lilysilk products.
"Our commitments to customer satisfaction and service are Lilysilk's top priorities, and we continuously build on that concept," said Mike Lee. "We will stay focused on our product selection. Though targeting at the high-end market, our silk sheets are at affordable prices. We hope we can help customers enjoy the benefits we bring, and enjoy the wonderful time with our pure silk sheets."
In addition, Lilysilk also offers 19 momme and 25 momme seamless silk flat sheets in good quality. Silk fitted sheets and duvet covers from Lilysilk online store are also delicately designed for customers.
About lilysilk
As a leading online store, Lilysilk is offering a wide range of silk bedding and comforters, as well as related accessories, which are high-quality at affordable prices. Colors and sizes are available.
For more information, please visit: http://www.lilysilk.com