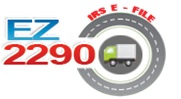 E-file is the best way to go for Form 2290 filers - IRS
(PRWEB) September 21, 2011
E-file is the best way to go for Form 2290 filers and starting this year, the IRS will no longer mail 2290 tax payers a Form 2290, Heavy Highway Vehicle Use Tax Return. Although alternative resources are available to obtain a tax form, tax payers may want to consider filing Form 2290 electronically. The electronic version of Form 2290 will improve excise tax processing, save personal resources (e.g., time & postage) and reduce preparation and processing errors. e Filed Schedule 1 is available for printing immediately after return is accepted by the IRS. E-filing is the fast, secure, easy and accurate way to file returns and pay any tax due. Tax Payer cannot e-file forms directly with the IRS. Form 2290 must be filed through approved e-file provider http://www.ez2290.com, part of TechAtlantis, Inc.
http://www.ez2290.com is a first of its kind HVUT (Heavy Highway Vehicle Use Tax) full service 2290 e-file provider that offers 24x7 live phone and chat support. ez2290 team has combined experience of over 11 years in tax filing industry ensures that tax filers get best of the both worlds, an online filing or full service assisted filing. In either case, tax filers have 24x7 support team available to work with tax payers at no additional cost.
DIY (Do-It-Yourself): ez2290 website is designed keeping in mind agile trucking workforce, business owners and practitioner community. Easy navigation takes through filing process and truly it's a one click filing. Once tax filer has logged in, ez2290 tax filing wizard takes tax filer through 2290 e filing process smartly and conveniently. During website navigation if tax filer need immediate attention, Contact 24x7 live representative online using chat or call us (877-811-eTAX) and we would be glad to assist.
Full Service: Full service tax filing is designed to offer customer with busy schedule and/or large fleet. Just pick up the phone and call us. ez2290 trained and certified tax professionals will take care of 2290 Form tax filing needs right from entering tax information to filing and providing tax payer with the accepted schedule 1 copy.
Full Service feature includes Audit Assist for free. IRS contact does not have to be complicated and confusing. With ez2290.com Audit Assist we will help with:

Find out why IRS has contacted the filer
Determine what it means
Our subject matter expert will help prepare response
eZ2290.com feature includes
1. Calculate accurate HVUT taxes (2290) for annual and partial year filings.
2. Calculate non refundable tax credits and apply tax credits towards tax liability.
3. One click e-File Form 2290
4. Retrieve and print IRS accepted Stamped Schedule 1
5. Access anytime, anywhere completed 2290 form stored under user profile.
6. Amend 2290 Form
7. 24x7 live chat and phone support.
Our Other IRS certified Tax Products
TAX1099.COM | EZEXTENSION.COM | EZ2290.COM
Tel: 877-811-ETAX | Fax: 866-508-1674 | support(at)ez2290(dot)com
###