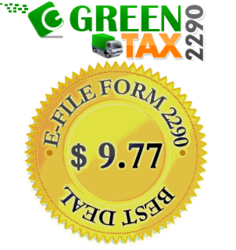 Guranteed Schedule 1 in 15 minutes or less or money back. As long as IRS MeF system is up and running.
(PRWEB) November 21, 2011
Taxpayer must file Form 2290 and Schedule 1 for the tax period vehicle used exclusively in the transportation of harvested beginning on July 1, 2011, and ending on June 30, 2012, if state taxable highway motor vehicle is registered, or required to be registered, in tax payer name under state, or license plate identifying a vehicle as being used in the District of Columbia, Canadian, or Mexican law at the time of transportation of harvested forest products is required. Its first use during the period and the vehicle has a taxable gross weight of 55,000 pounds or more.
2290 Filing Deadline is fast approaching If any heavy vehicle was first used in July, August, September or October 2011, the tax payer is required to file Form 2290 by November 30, 2011Why Choose GreenTax2290.com for 2290 E-filing?
Lowest Filing Fee Guaranteed: It starts at $9.77 and absolutely there is no hidden fee. Lowest filing fee also comes with the real live support. Lowest pricing even beats paper filing cost.
-Fastest Schedule 1: Guaranteed 2290 Schedule 1 in 15 minutes or full refund. Customers will receive their stamped Schedule 1 in 15 minutes or less as long IRS efiling system is up and running.
-Guaranteed tax accuracy & Calculations: Greentax2290 stand behind technology and work. GreenTax2290.com guarantees to pay penalty and interest on tax payer's behalf if error is caused by "green tax engine."
-Free Unlimited Filing for Rejections: Greentax2290 system allows free e-Filing of rejected returns as long as rejection is done for the same VIN number.
-Amendments: Easy to use Amendment process allows tax payers to fix mistakes
SMS on Demand: System allows tax filer to opt for a SMS notification. This helps agile trucking work force that's always on move.
-North American Support Team: USA-based multi-channel support is available to customers almost 24 hours a day using channel such as phone, chat and email. Greentax2290 support team average experience is over 5 years in the tax industry.
About TRS Holdings, Inc.
Greentax2290.com, powered by TRS Holdings, Inc., is a Fayetteville, AR based company dedicated to building successful software- as-a-service Green Products that increase the visibility and ease-of-use of government data and services.. http://www.GreenTax2290.com was created to eliminate the inefficiency associated with 2290 Form tax filings. TRS Holdings, Inc has pledged 10% of its 2011-12 GreenTax2290.com profits to support local charities.
###