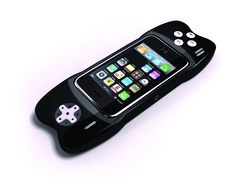 The GameBone will be the most feature rich gamepad ever to hit the market for the iPhone, iPod touch and iPad
(PRWEB) June 21, 2010
22Moo has added support for the iPad along with the iPhone 4 to their long awaited redesigned iPod touch and iPhone compatible gamepad - the GameBone.
Since the product's announcement back in 2009, the GameBone has gone through a major redesign incorporating many features that had been requested by the hundreds of e-mails sent to 22Moo and suggestions posted on blogs from around the world.
"The GameBone will be the most feature rich gamepad ever to hit the market for the iPhone, iPod touch and iPad," said Jason Chan, 22Moo's founder and product development manager. "The GameBone can be used in so many ways - use it as a digital photo frame or nightstand while charging your iPhone, a gamegrip for accelerometer based games, a baby monitor and much more ! You could even use it as a wireless gamepad for a PC/Mac with the right app installed," adds Jason.
22Moo states that over a thousand independent developers and many commercial developers have already registered their interest in supporting the GameBone upon its release. These include - Activision, Codemasters, Electronic Arts, Freeverse, Gameloft, id software, Konami, Manomio, Namco, PopCap Games, Sega, Take 2 Interactive, Ubisoft and Velvet Games just to name a few.
Over the last six months, 22Moo has also been collaborating with two leading iDevice accessory makers to create skins, cases and other add-ons for the GameBone.
In April 2010, 22Moo was accepted to join Apple's "Made for iPod", "Made for iPhone" and "Made for iPad" program. 22Moo is hoping the GameBone will be the first iDevice compatible gamepad to be approved by Apple.
Specifications of the GameBone includes :

8-way D-pad (directional pad)
4 action buttons
2 shoulder buttons
Stereo speakers
Omni-directional microphone
1600mA lithium battery
Kick-stand
Battery remaining button and indicator
Changeable cores for iDevices
Apple authentication chip (Upon Apple's approval)
With regards to pricing, "No price has been set as yet. We plan to announce the pricing of the GameBone in August - rest assured our customer will find the price reflects great value for money," states David Nguyen, 22Moo's product specialist. The GameBone's availability is currently targeted for end of Q4 2010 and will be placed into over 5000 stores worldwide by more than eight international distributors.
More further information, please visit http://www.22moo.com.au.
Join 22Moo's mailing list for notification of when the GameBone and SDK becomes available or to become a reseller/distributor or accessory partner.
Want to stay up to date ? Find 22Moo on Facebook | Twitter | YouTube
About 22Moo International Pty Ltd
Situated in Sydney Australia, 22Moo is a award-winning video eyewear specialist and designer of unique, useful and innovative quality accessories and developer of solutions for the iPad, iPod and iPhone devices.
22Moo is also the sole Australasian distributor of the award-winning Sleeptracker® watches from Innovative Sleep Solutions LLC as well as the multi-award winning DR. Mist body hygiene floatation fluid spray from Deltapreneur Sdn Bhd.
# ##