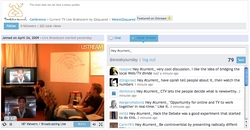 Just like Current TV democratized television, we wanted to democratize the brainstorming process and open it up in the ultimate act of transparency
Atlanta, GA (PRWEB) April 29, 2009
22squared, the Atlanta-based advertising agency specializing in building brand advocacy, picked up a request for proposal (RFP) issued by Jordan Kretchmer, VP of Brand at The Current Network, only this RFP was distributed in a rather unconventional way, via Twitter. Though the request was not the first to be issued through the social media tool, it certainly can be credited for garnering considerable buzz online.
While dozens of agencies responded to the client with simple 'tweets' on Twitter, 22squared responded by inviting the client, and the world, to a live social brainstorm hosted on ustream.tv. "Just like Current TV democratized television, we wanted to democratize the brainstorming process and open it up in the ultimate act of transparency," said Chris Tuff, Emerging Media and Analytics Manager at 22squared.
The agency used social networking sites to spread the word and invite participation as well as setting up a countdown clock on ustream.tv to build excitement, which included details of strategic issues to be covered during the brainstorm. The client agreed to participate via video feed and at exactly 1:00 EST on Monday, April 27, the social brainstorm went live. Following a structured agenda, the agency explored strategic challenges and issues for the brand and fielded questions and explored ideas from ustream chat and Twitter.
"In our brainstorm, it quickly became evident that while Current TV is a solid source for a wide range of current content, they lack a clear brand thread to bring it together", says Brandon Murphy, SVP, Director of Brand Planning at 22squared. "They have been a leader in democratizing content on TV, but they're not getting credit for it."
While an agency selection is still pending from the client, the exercise was clearly productive and innovative, with the agency fielding hundreds of chats and 17 pages of tweets from the online audience. The brainstorm became a top show on ustream's home page and the strategic implications document the agency provided quickly became a featured presentation on Slideshare.
Says Kevin Keith, SVP, Director of Brand Development at 22squared, "As an agency, we're always searching for innovative clients as well as ways to demonstrate innovation, particularly in the social media space. This was such a refreshing and collaborative way to engage with a prospective client."
To find out more information and download highlights of this online brainstorm, go http://press.22squared.com.
About 22squared:
22squared, one of the largest independent advertising agencies in the U.S., provides strategic marketing and creative services across multiple industries.
Believing today's consumer is far more influenced by what a brand does than what it says, the agency applies its proprietary brand advocacy model to assess the relationship between brands and consumers and determine actions to optimize it.
With this intelligence, 22squared develops marketing and advertising that motivates consumers to advocate on behalf of the brand, leveraging the power of peer persuasion and ultimately increasing revenue.
Clients include Buffalo Wild Wings Grill & Bar, First Horizon, Florida's Natural Growers, High Museum of Art, Marriott International, Orlando/Orange County Convention and Visitors Bureau, Publix Super Markets, Lincoln Financial Group, Shoe Carnival and Southeast Toyota Distributors. 22squared is located in Atlanta, GA and Tampa, FL. To hear more about 22squared and its thinking, visit http://blog.22squared.com/.
###