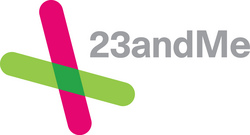 Mountain View, CA (PRWEB) December 8, 2008
23andMe, Inc., the industry leader in personal genetics, today announced it is offering a Multiple Kit discount through December 31st. Customers who purchase three or more kits in a single order will save $200 on the first three kits and $70 for every additional kit.
By offering this discount, 23andMe hopes to encourage families, in particular, to explore the unique features of the 23andMe Personal Genome Service™ that are of special interest to people who are related. These features allow family members to learn how genetically similar they are and how genes were passed down from grandparents to grandchildren. Some of the special features that are of particular interest to relatives include:

Genome View - a visual comparison of two individuals' chromosomes. Siblings can see where they're 100% or 50% similar. Distant cousins can see where their genomes overlap.
Grandtree - a pedigree view showing how genes pass through the generations by comparing data from grandparents to grandchildren.
Global Similarity - a mapping feature that places individuals in a global context. Over a thousand reference populations provide ancestral perspective and a plot to compare how family members cluster together.
"Family members who enroll in our Personal Genome Service get a richer experience," said Linda Avey, co-founder of 23andMe. "We've designed tools that enable fascinating comparisons for our customers who join 23andMe along with their relatives."
The 23andMe™ service also enables its customers to:

Discover how their genes associate with over 95 diseases and traits.
Actively participate in an innovative research approach by answering 23andWe surveys.
Join discussion groups around areas of interest, including health and ancestry.
Joining the 23andMe Community
To learn more and embark on your own personal genetics journey, please visit: http://www.23andme.com.
23andMe is now available to consumers in the following locations: Albania, Andorra, Armenia, Austria, Azerbaijan, Belarus, Belgium, Bosnia and Herzegovina, Bulgaria, Canada, Croatia, Cyprus, Czech Republic, Denmark, Estonia, Finland, France, Georgia, Germany, Greece, Hungary, Iceland, Ireland, Italy, Latvia, Liechtenstein, Lithuania, Luxembourg, Macedonia, Malta, Moldova, Monaco, Montenegro, Netherlands, Norway, Poland, Portugal, Romania, San Marino, Serbia, Slovakia, Slovenia, Spain, Sweden, Switzerland, Ukraine, the United Kingdom, the United States and Vatican City State.
About 23andMe
23andMe, Inc. is the leading personal genetics company dedicated to helping individuals understand their own genetic information through DNA analysis technologies and web-based interactive tools. The company's Personal Genome Service™ enables individuals to gain deeper insights into their ancestry and inherited traits. 23andMe, Inc., was founded by Linda Avey and Anne Wojcicki in 2006, and the company is advised by a group of renowned experts in the fields of human genetics, bioinformatics and computer science. Its Series A investors include Genentech, Inc., Google Inc. (NASDAQ: GOOG) and New Enterprise Associates. More information is available at http://www.23andMe.com.
###