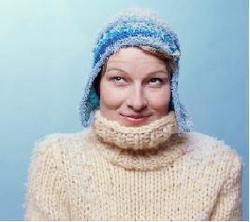 Norwalk, Conn. (PRWEB) December 10, 2007
24 Protect Plus (SM), a premier security program offered by Adaptive Marketing LLC, understands the potential perils of winter weather -- especially the dangers of hypothermia, a condition generally characterized by an abnormally low body temperature that can be difficult to recognize.
Let's face it. As much as many of us may dislike Old Man Winter, with his chilly air, biting winds and, depending on where we live, the occasional blizzard, it would be a big mistake to disrespect or flat-out disregard him. And that's why AP9 24ProtectPlus encourages its members to think of hypothermia as one of Old Man Winter's henchman, even a "bad lieutenant" of sorts. For while hypothermia is a dangerous condition by itself, even bigger concerns surround the fact that it is very easy to miss; a person can have it and never even know it.
So before anyone heads outside to shovel the driveway, take a long walk or hit the ski slopes and/or sleigh riding trails this winter, 24 Protect Plus would like to offer this friendly heads-up: Before "playing chicken" with Old Man Winter, be sure to watch out for hypothermia, and consider these timely tips and warnings:
-- Snap out of it. One of the most common symptoms of hypothermia is confusion and sleepiness. When out in the cold alone, try to stay alert. Sudden dizziness or disorientation could mean hypothermia is starting. And in very cold conditions, the urge to sleep can be overwhelming. Fight it and try to get warm -- fast.
-- When in doubt, dry out. Chattering teeth and physical exhaustion are a bad combination in a cold environment -- and even in conditions above 40 degrees Fahrenheit. If it's raining or the perspiration is really flowing, the body can go from hot to cold quickly, sending body temperature plummeting. So when cold turns into cold and clammy, do whatever it takes to get dry.
-- Unchain my heart. While hypothermia is more than happy to strike anyone, elderly people with heart-related illnesses are often prime candidates. Someone with heart disease or circulation problems should avoid being exposed to severe winter weather at all costs -- especially since a lot of heart medications can interfere with the body's ability to regulate itself.
-- Silence isn't golden. Perhaps the biggest danger associated with hypothermia is that it can strike quietly. A person can be out in the cold and not even realize that he is rapidly slowing down, slurring words -- even "acting drunk." Since many victims are alone and can't easily recognize the symptoms, such circumstances can result in an irregular heartbeat, heart failure, and even death.
No one has to like Old Man Winter, but it does pay to respect him. With the dangers of winter-related maladies like hypothermia lurking about, winter weather enthusiasts -- and the rest of us -- can stay one step ahead of him with these tips from 24ProtectPlus.
About AP9 24 Protect Plus
24ProtectPlus is a leading membership discount program offered by Adaptive Marketing LLC. Headquartered in Norwalk, Conn., Adaptive Marketing is a category leader in membership programs, bringing value direct to consumers through an array of benefits in healthcare, discounts, security, personal property and personals. Members may access their benefits at 24ProtectPlus123.com. With broad online and offline distribution capabilities, Adaptive Marketing offers its corporate client partners effective tools to enhance market presence, strengthen customer affinity and generate additional value through programs such as 24 Protect Plus.
###