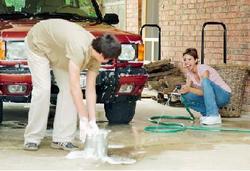 Everything in life is somewhere else, and you get there in a car.
Norwalk, CT (PRWEB) March 27, 2008
24 Protect Plus (SM), a premier security program offered by Adaptive Marketing LLC, wants to send out a message: Spring 2008 is here! So this year, along with flower planting and lawn maintenance, why not add car care to that spring-cleaning list? With the winter chill now only a memory, it won't be long before it's time to lower the car windows and raise the stereo volume. Hibernation period is over, people. Celebrate the rebirth by revitalizing the car.
Like 20th-century American writer E.B. White said, "Everything in life is somewhere else, and you get there in a car." So with that in mind, why not make that a clean-running, clean-looking car? 24ProtectPlus offers these safe and sensible car care tips; just think of it as a spring cleaning on wheels:
-- Honest Abe tells the entire truth. Start by checking the tires. Just take a penny and insert it in the tire's tread. If the top of President Lincoln's head sticks out, it may be time to replace the tires. That extra space may indicate signs of wear-and-tear. So don't take a chance. Worn-down tires don't grip the road well.
-- Clean that baby from head to toe. For some, a car is like a precious kid. And keeping it clean should always be top-of-mind. When cleaning, though, flip-flop things: Wash from bottom to top. Be sure to clean up the tires and undercarriage first. And use a separate cleaning mitt for the car's body. When it comes time to clean the inside, a hand or industrial vacuum should do the trick.
-- Air it out. Sure, it's great to have a clean car interior/exterior, but a great-looking car doesn't help engine performance. Check the air filter to see if it's clean. Any gunk left over from winter could slow things down.
-- Wipe the slate clean. Cars that have been out all -- or even part -- of the winter may have damaged wiper blades. And if April showers do indeed show up to bring May flowers, your wipers will need to work properly. Check them for cracking, tearing or chattering. Wipers that don't keep the windshield clean are all but useless.
-- Name that tune-up. The sound of a healthy car engine is music to the ears. Celebrate spring's return by checking all car vitals. Consider a tune-up that includes checking the battery, changing out the oil and inspecting the engine.
In addition to offering these helpful car care ideas, AP9 24 Protect Plus can also help with home improvement projects, legal and financial advice and other key safeguards. Enjoy a safe return to the road this spring: Happy motoring from the pros at 24ProtectPlus.
About 24 Protect Plus
AP9 24ProtectPlus is a leading membership discount program offered by Adaptive Marketing LLC. Headquartered in Norwalk, Conn., Adaptive Marketing is a category leader in membership programs, bringing value direct to consumers through an array of benefits in healthcare, discounts, security, personal property and personals. Members may access their benefits at 24ProtectPlus123.com. With broad online and offline distribution capabilities, Adaptive Marketing offers its corporate client partners effective tools to enhance market presence, strengthen customer affinity and generate additional value through programs such as 24 Protect Plus.
###