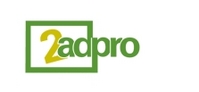 because providing IAB compliant banner advertising quickly is very important if local media is going to help its customers -- small and media local businesses -- thrive on the Internet.
Woodland Hills, Calif. (PRWEB) October 13, 2008
Radio and TV stations can now offer overnight, affordable creation of online display ads via a recently announced partnership between 2AdPro and MediaSpan.
Specializing in creating custom high quality advertising overnight, 2AdPro has partnered with MediaSpan Group, Inc. to provide the service to more than 1,500 broadcast Web sites which use the MediaSpan platform for content management and advertising. Advertisers can choose from a variety of online ad formats including banners, tiles, skyscrapers and rich media advertising.
"The partnership makes it exceptionally easy for a radio or TV station to monetize its Web site," said Todd Brownrout, co-founder and chief marketing officer for 2AdPro. "The sales representative sells the ad, 2AdPro designs it, MediaSpan places and provides the underlying technology -- the big winners are the broadcast Web sites and their local advertisers."
By offering design and creation of banner advertising, MediaSpan now provides another level of service to its broadcast customers. "All local media outlets are looking for better services to offer their audiences and Web site readers," said Steven Barth, MediaSpan executive vice president / GM online services, "and managing costs while growing revenue is crucial. We partnered with 2AdPro to offer local radio station Web sites and tv station Web sites with the ability to do just that -- cut costs and grow revenue."
Barth says that they chose 2AdPro as a partner because of the elegance and simplicity of the interface, the strength of the technology, and, he added, "because providing IAB compliant banner advertising quickly is very important if local media is going to help its customers -- small and media local businesses -- thrive on the Internet."
"Today the GMs of local radio and TV stations have a lot on their plate, and among the most important is how they are going to get ahead and stay ahead on the Internet," said Brownrout. "It's what MediaSpan has been doing for over a decade, and we are proud to be part of that growth."
About 2AdPro
2AdPro (http://www.2adpro.com) specializes in design and production of print, online and video advertising for media companies that work with small and local businesses. By serving as the "back end" design provider for online advertising, 2AdPro helps media companies provide the service and reach for which they are known, without the expense of a full-time on-site staff. 2AdPro was founded in 2006 by a group of media executives who created a proprietary process, incorporated off-shore design and facilitated a utility-based pricing model. Services include ad design and production services, metadata generation, conversion of print ads to Web/mobile and design of marketing collateral and corporate identity. The firm partners with leading media including Gannett Inc, Google, SpotRunner, and E. W. Scripps. A gallery of sample ads created by 2AdPro can be found at http://www.2adpro.com/adprosite/portfolio.html
2AdPro has offices in Woodland Hills, CA, and Bangalore, India and production studios in Chennai, India.
About MediaSpan
MediaSpan Group, Inc. (http://www.mediaspangroup.com) powers digital content management, online marketing, advertising and business productivity solutions for the world's leading media companies including Citadel/ABC Radio, MediaNews, Sun Media, Advance Publications, Gannett and Radio One. With over 4,800 local newspaper, radio, and television properties relying on its solutions, MediaSpan is the world's largest network of local media companies and media consumers.
MediaSpan provides mission-critical, pre-press infrastructure tools enabling efficient content delivery to consumers across print, web and wireless platforms. MediaSpan also provides a comprehensive suite of website management and marketing solutions.
MediaSpan has development, support and sales offices worldwide including locations in Ann Arbor, MI, Melbourne, FL, New York, NY, London, England UK and Irvine, CA.
# # #