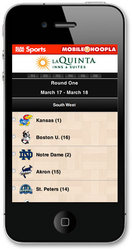 Nellymoser is powering the first-ever made-for-mobile bracket contest integrated with Facebook and appearing in USA TODAY
Arlington, MA (PRWEB) March 15, 2011
Leveraging Microsoft Tag technology, Massachusetts-based mobile engagement company Nellymoser is powering the first-ever made-for-mobile bracket contest appearing in USA TODAY, called Mobile Hoopla, in conjunction with the annual Men's College Basketball Tournament.
USA TODAY readers will be able to use their mobile phones to sign in with their Facebook account or e-mail address, make their bracket picks, post on their Facebook page that they are playing, partake in a leaderboard with their friends and compete in a national contest for a chance to win one of five Xbox 360 consoles with Kinect.
By scanning Microsoft Tag 2D barcode printed in each issue of USA TODAY, readers will be able to make their college basketball picks in each round from any mobile device, including Apple's iPhone, BlackBerry, and Android smartphones. The mobile site also will provide the latest tournament information, updated scores as the games are played, text alerts, and one's rankings compared to his or her Facebook friends.
Nellymoser's design and creative services produced the mobile user experience using the Nellymoser Mobile Engagement Platform, which detects the phone, network, and speed in real-time to create the best possible presentation on virtually any mobile device.
"This is the first-ever national print-to-mobile contest to be tightly integrated with Facebook. It shows how the printed page can be linked to the online world to create a powerful capability that publishers like USA TODAY can use to extend their reach and reader engagement," said John Puterbaugh, Nellymoser CEO.
For full contest details, please go to http://www.mobilehoopla.usatoday.com via a mobile device for more details.
###