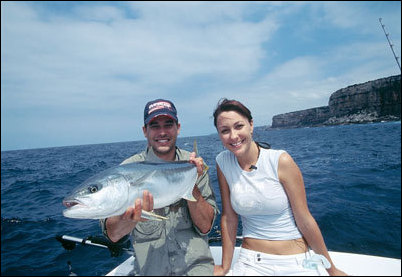 Sydney, Australia (PRWEB) July 7, 2006
Today the Modern Fishing August issue goes on sale with a 30 minute promotional version of '2Dans Fishing - The Kingfish Sessions' on its cover.
Modern Fishing is Australia's premier fishing periodical. In it's 31 years on the market 2Dans Fishing is the first DVD to be distributed with the magazine. The promo version of the DVD is free and full of information on fishing around Sydney, renowned for its recreational fishery.
'2Dans Fishing - The Kingfish Sessions' is focused on how to catch Yellowtail Kingfish (Seriola lalandi) but includes footage and fishing tips and techniques for a range of other estuary and offshore species found in and around Sydney, Australia.
The website launch for 2Dans Fishing 2Dans Fishing DVDs coincides with the DVD launch and provides fishing articles, tips and techniques, fishing image galleries and free fishing video clips and highlights from the DVD.
Dan Trotter from Obsession Sessions independant media producers and makers of the 2Dans Fishing DVD, is excited about his company's debut prduction.
"This Fishing DVD is the culmination of 2 years hard work and my fishing partner Dan Burgess, and I are thrilled with the final product.
There are currently several new indy DVD productions coming onto the Australian fishing scene. We think our DVD stands out from the crowd though. For a start it is over 3 hours long and is jammed with extra features including a cooking and recipes section, live bait catching, tackle and rigging tips and a main feature itself that is over 90 minutes in length and crammed with plenty of big fish action.
As well as this we have tried to develop a marketing strategy that includes a really useful website. We are hoping to build an online angling community around great fishing articles, tips and techniques, fishing galleries and video clips. When we're not running into our mates on the water we'll be able to stay in touch with them online. And the best part is that the website is totally free."
While the 30 minute version of the DVD comes free with every copy of Modern Fishing's August issue, the full 3 hour version is available at tackle stores or can be purchased online at the 2Dans Fishing website fishermandan.com.au
###