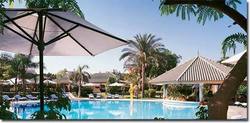 increase and diffuse geographic knowledge
Toronto, ON (PRWEB) August 26, 2009
The new Global Explorer Series from Fairmont Hotels & Resorts and the National Geographic Society has only one exciting event left for 2009, which is guaranteed to be unforgettable. Dr. Zahi Hawass, head of Egypt's Supreme Council of Antiquities, was selected by Egyptian president Hosni Mubarak to accompany President Obama to the Pyramids earlier this year and will also be on hand to host guests of Fairmont and the National Geographic Society. The Wonder With One Of The Seven Wonders package not only offers a deeper understanding of Egypt, one of history's most captivating cultures, but is a once-in-a-lifetime chance to engage with a celebrated National Geographic expert while learning about the legendary archeological sites he has studied for decades.
The package, running November 27-30, 2009, features one night at Fairmont Towers, Heliopolis and two nights at Fairmont Nile City with breakfast and dinner; a full day tour of the Great Pyramids of Giza and Saqqara; a guided tour of the Cairo Museum, Nile Felucca ride and a dinner lecture with Dr. Zahi Hawass, who has spent 20-plus years working to shed light on the mystery that surrounds the Great Pyramids. Discoveries made or supervised by Hawass include the "Valley of the Golden Mummies," and two intact 5,000-year-old tombs near Cairo. During his lecture, Hawass will reveal secrets of the Great Pyramids by sharing some of his recent discoveries at Giza, including intriguing new details about King Tut revealed by groundbreaking CT scans. Rates for the three-night package start from $960 USD per person.
As part of Fairmont's commitment to responsible tourism and the environment, this series offers a way to interact with a destination and culture in an authentic and unique way. Guests can visit http://www.fairmont.com/globalexplorer for more information and reservations for this incredible event. This package is subject to availability, excludes taxes and is based on double occupancy.
About the National Geographic Society
The National Geographic Society is one of the world's largest nonprofit scientific and educational organizations. Founded in 1888 to "increase and diffuse geographic knowledge," the Society works to inspire people to care about the planet. National Geographic reflects the world through its magazines, television programs, films, music and radio, books, DVDs, maps, exhibitions, school publishing programs, interactive media and merchandise. National Geographic magazine, the Society's official journal, published in English and 31 local-language editions, is read by more than 40 million people each month. The National Geographic Channel reaches over 270 million households in 34 languages in 166 countries. National Geographic Digital Media receives more than 12 million visitors a month. National Geographic has funded more than 9,000 scientific research, conservation and exploration projects and supports an education program combating geography illiteracy. For more information, visit nationalgeographic.com.
About Fairmont Hotels & Resorts
"This offer is exclusive to our luxury Cairo Hotels, which form our Egypt hotel offerings. Please visit our hotel website: City Hotels in Cairo to find out more about our Fairmont Hotels."
A leader in the global hospitality industry, Fairmont Hotels & Resorts is a celebrated collection of distinctive hotels, which includes iconic landmarks like Fairmont Le Château Frontenac in Québec City, Kenya's Fairmont Mount Kenya Safari Club, and London's The Savoy, reopening later this year following an extensive restoration program. Fairmont hotels are one-of-a-kind properties where sophisticated travelers can discover culturally rich experiences that are authentic to the destination. Situated in some of the most exclusive and pristine areas in the world, Fairmont is committed to responsible tourism and is an industry leader in sustainable hotel management with its award-winning Green Partnership program. Fairmont's portfolio includes 56 world-class hotels, with plans to develop over 30 new properties in the coming years in destinations as diverse as Shanghai, The Philippines and India.
Fairmont is owned by Fairmont Raffles Hotels International, a leading global hotel company with 91 hotels worldwide under the Raffles, Fairmont and Swissôtel brands. The company also manages Fairmont and Raffles branded Residences, Estates and luxury private residence club properties. For more information or reservations, please call 1-800-441-1414 or visit http://www.fairmont.com.
###