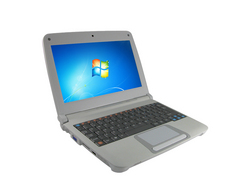 CTL's education customers have been telling us that they love our ruggedized 2go netbooks, but wanted a model with VGA out, a larger screen and bigger hard drive, keyboard and touchpad
San Francisco, California (PRWEB) September 23, 2009
Portland, Oregon's CTL™ Corporation showcased its new Clamshell 2go™ Classmate PC E10 netbook today at the Intel Developer's Forum in San Francisco.
CTL's new 2go Classmate PC netbook is designed to withstand a thirty-inch drop. This is a major factor since CTL targets grades K-8 in the educational market for this netbook. The 2go Classmate PC E10 comes standard with an Intel® Atom™ Processor, a 10.1" LCD Screen and 160GB Hard Drive.
"CTL's education customers have been telling us that they love our ruggedized 2go netbooks, but wanted a model with VGA out, a larger screen and bigger hard drive, keyboard and touchpad," said Mike Mahanay, General Manager of Sales and Marketing at CTL. "We listened. The result is our new 2go Classmate PC E10."
"CTL is proud to display our new 2go Classmate PC E10 at this year's Intel Developer's Forum. We continue to develop new models in conjunction with the Intel Classmate series of netbooks. We remain dedicated to the platform," said Erik Stromquist , CTL's Executive Vice President.
The 2go Classmate PC E10 also has a large keyboard and touchpad and is available with Microsoft® Windows® 7 as well as with Microsoft® Windows® XP or Ubuntu Linux.
The new 2go Classmate PC features an energy efficient Intel® Atom™ Processor and is encased in a rugged shell complete with a built-in carrying handle and protective vinyl cover. With durable, drop-resistant construction, a sturdy plastic case, and water-resistant keyboard, the CTL 2go Classmate PC is an Intel® Powered classmate PC that can go just about anywhere and be used safely by just about anyone.
"CTL's new clamshell 2go classmate PC will expand the technology choices available to young students in the United States", said Lila Ibrahim, general manager of Intel's Emerging Markets Platform Group, the group that developed the Intel-powered classmate PC reference design. "Intel has been working with technology industries worldwide to offer complete education solutions that provide quality educational experiences for students around the world."
The CTL 2go Classmate PC E10 has a two-toned dark- and light-gray chassis. The 2go Classmate PC weighs in at 3 pounds and measures 8.7 x 7.3 x 1.5 inches.
About CTL
Founded in 1989, the company manufactures CTL-branded desktop computers, laptops and notebooks, computer monitors and servers as well as its Nexus® brand of plasma and LCD televisions and its 2go™ line of netbooks. Headquartered in Portland, with offices in Seattle and Seoul, Korea, CTL is a supplier to numerous government agencies throughout the USA, and to many of the most recognized corporate brands, including Kroger Company's Fred Meyer chain, and Intel Corporation. CTL's Retronics division is one of the nation's leading recyclers of technology components. For more information about CTL, please visit CTL's Product Website.
###