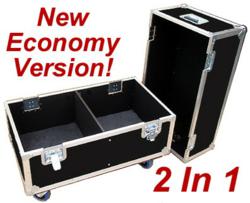 By paying attention and listening to our customers we realized that we could offer sturdy, protective cases for two or more speakers at a lower price without sacrificing safety or quality
Holbrook, NY (PRWEB) June 28, 2013
For decades Road Cases USA has been manufacturing and offering stock and custom cases in an expansive variety of both styles and colors from their Long Island, New York-based headquarters. In addition to 100s of stock cases for musical instruments and equipment storage the firm also offers custom work which includes specialized musical instrument cases, flight and mobile cases to professionals in many fields. Trending now among the firm's most popular products is the 2 in 1 speaker cases. Until recently these specialized cases used for the safe transport of sound system speakers were only available at a price point most easily accessible to professionals. Now, due to popularity, Road Cases USA is offering an 'economy' version of the heavy duty customized cases at a more affordable price and expects to reach a greater demographic.
The new version of the company's custom speaker cases use the same 3/8" plywood as the original model and are also lined with carpet. Every speaker case is built to the client's exacting specifications. Sturdy casters are mounted to the bottom corners and a divided interior ensures speakers are not damaged through accidental contact with each other. Additional features to extend the working life of the case as well as protection for its contents include rust-resistant recessed hardware; the case is bound in heavy PVC black laminate which resists scuffs and tears. As the company name suggests, Road Cases USA's products are manufactured in the United States.
Providing quality products, choice, price and superior customer service has made Road Cases USA successful. 'By paying attention and listening to our customers we realized that we could offer sturdy, protective cases for two or more speakers at a lower price without sacrificing safety or quality," notes Frank Milton, President, Road Cases USA. He further states, "Both our standard and economy models are crafted from durable, damage-resistant, full ATA 3/8" plywood and the riveted extrusions are heavy gauge aluminum. We did not cut corners on the structural integrity of our 2 in 1 cases to make them more affordable- and shipping is free for this version as well! It is clear that our customers appreciate our attention to detail as well as their needs by the increased orders we are receiving for the new economy version of our popular 2 in 1 speaker cases," Milton concludes.
Road Cases' comprehensive product line of stock cases for musical instrument and equipment storage includes guitar, amp, DJ keyboard, drum and mixer cases to mention a small sample. The custom work includes specialized musical instrument cases, flight and mobile cases in a wide range of styles to industry professionals such as musicians, magicians, DJs, the trade show industry, students, corporate and private clients.
About Road Cases
Road Cases USA began over 35 years ago as a two person operation working out of a basement and has steadily expanded due to their unique, creative and innovative approach to producing ATA cases. Road Cases stands behind the claim that nowhere in the country will customers find a better case at the prices Road Cases USA offers. Today Road Cases USA is a well-established manufacturer in the musical instrument, lighting and electronics ATA travel case industry with decades of experience in case making. The goal has always been to provide the best possible protection at the most economical price to customers. The firm truly believes that every case on the website represents proof of the fine workmanship and commitment. Attention to customer needs continues to help growth as they serve clientele ranging from garage bands to corporate accounts and household name agencies. Road Cases USA invites interested parties to contact the sales department and allow the staff to accommodate every case requirement. Road Cases USA strive to make cases that protect customers' equipment, livelihood and the bottom line!