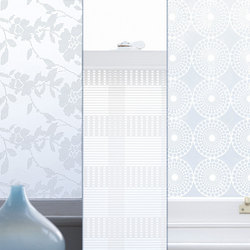 "With the new designs I wanted to... try to create a design for every window and every interior," says window film designer Emma Jeffs.
Tampa, FL (PRWEB) July 23, 2010
Emma Jeffs adds three much anticipated new designs to her iconic "White Collection" of decorative window film. The popularity of the DIY self-adhesive window covering for residential and commercial use is expected to grow as the broader range of prints complements an even wider selection of spaces.
"With the new designs I wanted to… try to create a design for every window and every interior," says Jeffs. "To date I think a lot of my window films are used in bathrooms and kitchens, but I hope with these new designs people might think differently about using them in bedrooms and living areas where they need privacy but want to retain the light."
Jeffs' ground-breaking film has been making headlines since its release in 2006. As a textile designer, originally trained in London to enter the world of high fashion, Jeffs turned her talents toward the world of home interiors. Her graphically progressive but historically mindful prints continue to set the standard for contemporary privacy film.
"It's so exciting to see that the long-awaited prints, 'Rose', 'Pearl', and 'Anni' are all in keeping with the melodically playful patterns of those in her existing White Collection," says Jeffs' North American distributor and 2JANE.com owner, Roxie Mae Lackman. "Her effortless elegance and signature style shine as brightly as the sunlight that beams through the film covered windows."
The 37" x 52" sheets feature all-over patterns that can be used horizontally or vertically to maximize the number of window types and sizes it can fit. Sold in single rolls direct to consumers, the installation requires little more than a straight edge, a razor, and a few drops of water.
The film is available at 2JANE.com and normally costs $76 a roll. To celebrate the release 2JANE.com is offering 15% off the 3 new designs, making the price $64.60. To receive the discount, visit 2JANE.com and enter WHITE15 at checkout.
2JANE.com is an online purveyor of modern products for the home. 2JANE serves as the North American distributor and manufacturer of Emma Jeffs' 'White Collection" of window film products, as well as holding the distinction of being the film's top retailer. 2JANE also prints and distributes Mibo Tile Tattoos, decals for kitchen and bathroom tilework, for North America. 2JANE has been open for business since 2003 and is proud to represent many UK-based as well as American designers.
For more information on 2JANE.com or Emma Jeffs window film, please contact:
Roxie Mae Lackman
2JANE.com
roxiemae(at)2jane(dot)com
888-667-6961
###