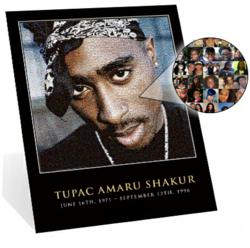 Northfield, OH (PRWEB) August 20, 2012
Fan Mosaics, Amaru AWA Merchandising Inc. and DECOSTA Marketing are partnering to celebrate the life and legacy of Tupac Shakur with an official Fan Mosaic. This photo mosaic, featuring a well-known image of the rapper and actor, will be formed entirely from photos submitted by "Makaveli" fans.
"Tupac was much more than a talented musician and actor," says Rob Hixenbaugh, Fan Mosaics' director of fan & brand development. "He was a voice for his followers, speaking out against social injustice and poverty. His fans still love him, even all these years after his death, and we're excited to unite them in celebration of his art and his message."
Fans can upload their photo at no cost for inclusion in the officially licensed Tupac Shakur Fan Mosaic at FanMosaic.2pac.com through September 23, 2012. They also will have the opportunity to own the high-quality 24" x 30" commemorative print, which is designed to be framed and displayed as a unique piece of art.
About Fan Mosaics
Northfield, Ohio-based Fan Mosaics, LLC, is the bridge that connects fans and stars. The company's officially licensed celebrity photo mosaics—composed entirely of fan-submitted images—are a unique and lasting outlet for fans' enthusiasm and loyalty. Entertainers in all industries choose Fan Mosaics to thank fans for their dedication, and charities partner with Fan Mosaics to raise funds for their worthwhile causes. Visit http://www.fanmosaics.com to view completed and current projects and to learn more about the Fan Mosaics creation process.
About Tupac:
Tupac is an iconic hip-hop artist, actor, poet and an advocate for the overlooked and poor in America. Triumphantly, throughout his career, Tupac sold over 75 million albums and has received six Grammy nominations. To this day he is still considered to be one of the greatest influences on modern hip-hop. Visit Tupac's official website at http://www.2pac.com
About DECOSTA:
A Canadian based company, founded by Jesse DeCosta, DECOSTA is a global brand management and licensing company that has worked with a range of icons like Will Smith, Kevin James and Deborah Cox. Recently, DECOSTA began working with the Jacksons, launching the family's first official website, managing their social media, and providing the creative direction for the upcoming Unity Tour. Visit http://www.decostainc.com for more info.