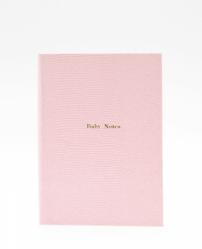 London, UK (PRWEB) July 10, 2012
Quintessentially Gifts suggest their top new baby gifts for spoiling that special arrival.
Sloane Stationery Baby Notes Notebook, £41
With either a blue or a pink baby notebook the special arrival will have a keepsake in years to come. Bound in either baby blue or pink lizard print leather, your gift will let them know when their first curl appeared or what their first meal was.
Bamford Complete Baby Gift Basket, £85
The perfect gift for little ones from Bamford; brought to you by the wonderful people behind Daylesford Organic. The set includes organic baby cream, baby soap, organic baby powder, organic baby balm, organic baby massage and bath oil and a plush cuddly rabbit toy.
Olivier Baby Blue Pram Bag, £99
Keep that little man all snug and warm in this hand-knitted baby blue pram bag. It is warm, charming and practical for a stroll in the street and if someone wants other colours, Quintessentially Gifts are can be sure to organise this.
Rory Carnegie Books, A Book Of Memories, POA
All parents invest in a camera when their first is born and it doesn't stop when the brood grows. After capturing all those momentous moments make sure to invests in a book to showcase them. The Rory Carnegie book offers the unique opportunity to have photographs bound in a beautifully designed book.
For all of Quintessentially Gifts' latest loves and international designer finds, follow the new Quintessentially Gifts blog: http://blog.quintessentiallygifts.com/.
Visit Quintessentially Gifts' website to order online or for specialist advice call + 44 (0) 845 224 2617
For all media enquiries please contact communication(at)quintessetially(dot)com / P: +44 (0)203 073 6752
About the Company:
Quintessentially Gifts, specialists in luxury and bespoke gifts, is part of the Quintessentially Group. Quintessentially Gifts has offices in London, Oslo and Geneva. Quintessentially is a private members club with a global concierge service. Available 24 hours a day, 365 days a year, our expert fixers are always on hand to aid and assist our members – whether it be sourcing tickets to much anticipated sporting events, providing access to the hottest gigs in town, securing last minute hotel bookings and travel deals, or simply making restaurant reservations. What's more, a Quintessentially membership provides unlimited access to an unrivalled package of privileges, preferential rates and bespoke services - therefore not only saving our members time, but also money. In recent years, Quintessentially has undergone a rapid expansion - from the original concierge concept - into a global luxury lifestyle group, with a portfolio of businesses encompassing property, events, wine and art consultancy. With 65 offices worldwide and further plans for Amsterdam, Auckland, Chicago, Kuala Lumpur, Luxembourg and more this year, Quintessentially has quickly become a global support system for its members, wherever they may be.