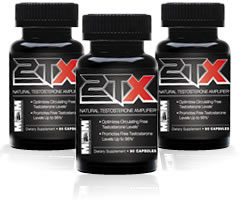 Natural is as it should be.
Orange, California (PRWEB) April 30, 2012
Since its public release in 2011, 2TX by Max Muscle Sports Nutrition has become the 'go to supplement' for men ranging in age from 30 and above. This innovative and science-based formula has been strategically designed to promote the powerful testosterone mechanisms in the male body, releasing testosterone from binding transport proteins, optimizing steroid receptor binding capacity, and blocking unwanted estrogen production.
"The primary bioactive ingredients Testofen™, Testafuranol™ and Maslinic Acid are all natural botanicals proven to be safe and effective in supporting healthy testosterone levels." said Dr. Phil Harvey, Chief Science Officer of Max Muscle Sports Nutrition. "Natural is as it should be."
The 'Natural' in 'Natural Testosterone Amplifier' is the reason 2TX surpasses all other testosterone supplements in consumer demand.
Said Dr. Harvey, "With 2TX, there should be no concern about a physiological phenomenon that can be seen with synthetic hormone drugs called "negative feedback inhibition". Simply put, negative feedback inhibition means that when the body is given a steroid hormone like testosterone (orally, patch, injection) at high doses or at doses above normal, it can shut down the body's natural production of testosterone through complex feedback mechanisms. The body is very smart in how it regulates hormones."
While 2TX was developed for boosting testosterone amplification and age-related hormonal support, in recent weeks men of all ages have been literally buying the supplement in record numbers – and in some stores across the nation, out of stock - for reasons that have recently come to national attention: Heart Failure.
US News, ABC News, and nearly every major medical news source have been promoting that patients struggling with moderate to severe heart failure might benefit from testosterone supplementation to boost their ability to exercise.
"Heart failure is a chronic condition that can be brought on by blockages in the heart, lung disease, diabetes or kidney disease," said study co-author Justin Ezekowitz in a USA Today Health interview, an assistant professor in the department of cardiology at the University of Alberta as well as at the Mazankowski Alberta Heart Institute, both in Edmonton. "It's a clinical syndrome, where the body cannot pump enough blood to meet the body's demands for oxygen to do things like exercise properly."
"And what we found in the few small trials that we looked at is that testosterone therapy helped patients to realize quite striking and quite important benefits in terms of their ability to exercise," he added. "The improvements were very significant."
The study, which received partial funding from the Canadian Institutes of Health Research and from Alberta Innovates-Health Solutions, appears online April 17 in the journal Circulation: Heart Failure.
"In males, testosterone levels begin to decline in the late third or early fourth decade of life and diminish at a constant rate thereafter. Steeper declines occur in unbound or free testosterone." said Sean Greene, Max Muscle Sports Nutrition President. "Because we made the product 'natural', the results we're seeing, and the peace of mind we're giving are incredibly high. For this reason, and the myriad of benefits 2TX Natural Testosterone Amplifier brings the American male, we're bringing national focus on this 'testosterone booster' in the month of May at all 160+ Max Muscle Sports Nutrition stores across the nation. It's that important."
For twenty years Max Muscle Sports Nutrition has been the leader in the sports nutrition industry, and is committed to improving the health of people from all walks of life. Team members – Certified Fitness Nutrition Coaches™ - are extremely knowledgeable and take the time with each client to pinpoint their health and fitness goals in order to find the best program, products and supplements for them to achieve those goals. Whether the goal is to lose weight, gain weight or dedicating oneself to a healthier lifestyle- Max Muscle Sports Nutrition is one business that is growing by helping others reduce… online at http://www.MaxMuscle.com Franchise opportunities available at http://www.MaxMuscleFranchise.com The myMaxMuscle online community is at http://www.myMaxMuscle.com