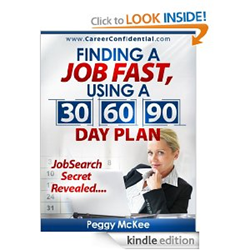 The plan worked far beyond my expectations.
Dallas, TX (PRWEB) April 17, 2013
Career Confidential announces the sale of their ebook, Finding a Job Fast Using a 30-60-90 Day Plan, on Amazon.com. A 30-60-90 day plan is the best job-getting tool, bar none. The plan can help people in all industries to put themselves miles above all other applicants in the job interview process.
Pete Carr, a Career Confidential 30-60-90 Day Plan convert, who had been out of work for a year, shared his story:
"I went to an interview last week and took your 30-60-90 day plan, of course I customized it to me and my profession, and it worked! He was so impressed with my plan that he not only hired me; he hired me as a general manager for all his stores, a six-figure job. Much more than I was interviewing for…The plan worked far beyond my expectations."
The Finding a Job Fast Using a 30-60-90 Day Plan ebook spells out everything job seekers need to know about the 30-60-90 day plan. The ebook goes in depth, explaining everything from why they work, how they work, how the plan can be put together, to how to use the plan in an interview. Buy it today.
Career Confidential is Committed to Getting America Back to Work
Career Confidential was founded in 2009 under the guidance of CEO Peggy McKee and CTO Carl Chapman, two nationally recognized experts in the field of job search training. Career Confidential's successful first product, the 30/60/90 Day Business Plan, spurred the creation of over 30 products today that provide tools, techniques, and tips to help every job seeker find the perfect job.
Career Confidential exploded in 2012 with a 94% growth rate over 2011 in a down economy. After assisting over 10,000 people get jobs, Career Confidential has set a goal to get at least 10,000 more people into successful careers in 2013. Career Confidential is committed to getting the unemployed back to work in 2013.
Peggy McKee, a nationally recognized career expert, is available for personal career coaching. For questions about this topic or any other inquiries, call Zanetta Siciliano at 800-691-2562.