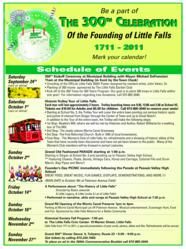 Be part of the 300th Celebration of the founding of Little Falls, NJ
Little Falls, NJ (PRWEB) September 22, 2011
A series of events and festivities are planned to celebrate the 300th Anniversary of the founding of Little Falls, NJ. The Little Falls Historical Society has released an events calendar with highlights that include a Grand Old Fashioned PARADE sponsored by Schumacher Chevrolet on Sunday, October 2 beginning at 1 pm. Find more details below or contact John Veteri, Jr., Esq., President-Little Falls Historical Society, Inc. at: 201-836-6300 or by cell: 973-865-3040
Events to Kick Off the 300th Anniversary Celebration of the Founding of Little Falls, NJ include:
Saturday, September 24, 2011: (rain or shine) 300th Kickoff Ceremony at Municipal Building with Mayor Michael DeFrancisci at 11am at the Municipal Building (in front by the Town Clock)

Unveiling of the Official Little Falls 300th Poster designed by resident artist, John Veteri, Sr.
Planting of 300 mums- sponsored by The Little Falls Garden Club.
Kickoff of the 300 Trees for 300 Years Program- Our goal is to plant 300 trees in Little Falls within one year! For information regarding tree donations, call 973-865-3040.
Saturday, October 1, 2011: (rain or shine) Historic Trolley Tour of Little Falls -Each tour will last approximately 2 hours. Trolley boarding times are 9:30, 12:00 and 2:30 at School #3. Tickets are $10.00 for Adults and $5.00 for children. Call 973-865-3040 to reserve your seats!

Starting at School No. 3, the Trolley Tour will cover the entire town pointing out various historic spots and points of interest from Singac through the Center of Town and up to Great Notch!
In addition to the Tour of the entire town, the Trolley will make the following stops:

1st Stop- Beattie's Mill, where we will be met by Historian and Author, Robert Williams for a walking tour of The Mill.
2nd Stop- The newly redone Morris Canal Greenway.
3rd Stop- The First Reformed Church- Built in 1840 of local brownstone.
Final Stop - The Woman's Club of Little Falls, for refreshments and a showing of historic slides of the Town that have recently been discovered and have not yet been shown to the public. Many of the Woman's Club members will be dressed in period costumes.
Sunday, October 2, 2011: Grand Old Fashioned Parade starting at 1:00 p.m. - (Sponsored by Schumacher Chevrolet) Starting in Singac at School No. 3 and parading up to Passaic Valley High School. ** Featuring Clowns, Floats, Bands, Vintage Cars, Horse and Carriage, Colonial Fife and Drum March, Bag Pipes and More!
Sunday, October 2, 2011: Immediately Following the Parade at 3:00 pm.- Founder's Day Picnic at Passaic Valley High School. - Great Food, Great Music, Fun, Games, Displays, Demonstrations and More!! (rain date: October 9th at Paterson Avenue Field)
Friday, October 14, 2011: A Performance about "The History of Little Falls" Directed by Basia Jaworski, A Little Legacy, A Little Levity, A Lot of Little Falls! • Performed in narrative, skits and songs at Passaic Valley High School at 7:30 p.m.
Sunday, October 16, 2011: Grand Re-Opening of the Morris Canal Preserve 1pm to 4pm. Parking at Morris Canal Municipal Lot off Paterson Avenue. Musical entertainment, Scavenger Hunt, Food and Fun. Sponsored by Little Falls Alliance for a Better Community.
Wednesday, November 2, 2011:Historical Society Fall Program- 7:00 pm at The Little Falls Civic Center- 19 Warren Street. "Little Falls from 1711 to 2011", a special presentation of post cards, photos, slides and film. Refreshments will be served.
Sunday, November 27, 2011: Grand 300th Dinner Dance: IL Tulipano, Route 23 • 5:00 – 9:00 p.m. - Get tickets by calling 973.220.7050.
To place an ad in the 300th Commemorative Booklet call 973-865-3040.
# # #