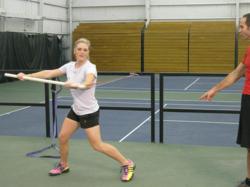 You must train your shoulders with your hip, this is the secret, this is how we swing, throw a ball, hit a golf ball, etc.
Denver, CO (PRWEB) March 13, 2012
Because most rotator cuff tears are largely caused by the normal wear and tear that goes along with aging, people over 40 are at a greater risk.
Band training is an incredible way to prevent injuries, especially around the shoulder if done correctly says fitness expert Howard Waldstreicher. Repeated overhead activities such as tennis, baseball, volleyball or even gardening, digging and lifting put a strain on your shoulders and can cause rotator cuff injury.
A torn rotator cuff will weaken you shoulder. Waldstreicher says, "this means that many daily activities, like combing your hair, brushing your teeth, or even getting dressed may become painful and difficult."
As always the best way to avoid injury is prevention and the best prevention is to strengthen your body. HalfHourPower.com, a popular innovative program for athleticism and game fitness teaches recreational athletes of all levels how to train their shoulders functionally. Waldstreicher says "you must train your shoulder with your hip, this is the secret, this is how you swing a racquet, throw a ball, hit a golf ball, etc.."
HalfHourPower is currently available in DVD format with multiple performance routines. The at home workout package can be purchased with two 41" Power Bands, a door anchor and DVD for a retail price of $64.95. A demo of the program can be viewed at http://www.halfhourpower.com.
For more information on HalfHourPower, or to purchase the HalfHourPower training program, visit their website at http://www.halfhourpower.com
# # #