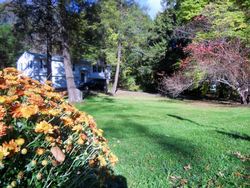 We had to think outside the box to gain attention. Both homes are in excellent condition and beautiful neighborhoods. It is an unbelievable deal for the right buyer.
Ridgefield, CT (PRWEB) November 8, 2010
A Connecticut home seller is offering the buyer of his Ridgefield, Connecticut home a second house in Palm Harbor, Florida as a bonus. For the price of $615,000 the lucky buyer can have two homes for less than the price one would have cost in either community just a few years ago. The incentive is one of the ways in which Scott Tivey is hoping to capitalize on the two assets quickly in this dismal real estate market.
Tivey is marketing this incredible deal through a website. http://www.TownhouseToo.com He has also crafted targeted direct mail pieces to audiences who could benefit from the Ridgefield, Connecticut's unique location and setting, such as child care centers, professional offices and families. "This town is known for its excellent schools, low crime rate and family-oriented atmosphere," Tivey said, "but since our house is located right near the shopping district, on a beautiful acre of land, I had to think outside the box and appeal to all potential buyers who would benefit from this location, in addition to traditional family buyers."
The seller has also chosen not to use a realtor. Tivey explains that because the home is now worth less than when he purchased at the height of the market, every dollar counts. "We have already priced the offer realistically," the seller stated, "in order to pay a realtor's commission, we would have to list at a higher price, and that would mean fewer interested buyers." Without the benefit of a realtor's MLS (Multiple Listing Service) access, Tivey is hoping the "Townhouse Too" offer will result in the attention he needs to sell. In addition to website and direct mail, the seller is also mounting an effort on popular social networking sites, and using email marketing. With the help of new media methods, the Tiveys are hoping to complete their relocation within a few months to a community where they can better meet the needs of their son, who has autism.
This Connecticut family is shunning traditional real estate tactics and creatively marketing their home to prospective buyers. A two-for-one buyers incentive will mean that the lucky buyer of the Tivey's Ridgefield, Connecticut home will get a beautiful Palm Harbor, Florida Townhouse, too. http://www.TownhouseToo.com
###