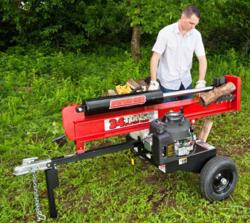 The Swisher 34 ton log splitters are made in the USA and one of the largest wood splitters on the market
Central Point, OR (PRWEB) July 02, 2012
WoodSplitterDirect.com continues expanding its online superstore offering with the addition of Swisher 34 ton log splitters.
The Swisher log splitters have the ability to split either horizontally, for smaller to average size logs, or vertically, for logs that may be too heavy to lift.
"The Swisher 34 ton log splitters are made in the USA and one of the largest wood splitters on the market," said Michael Hirsch, log splitter expert at WoodSplitterDirect.com.
With the addition of the Swisher 34 ton log splitters, Wood Splitters Direct now offers a larger selection of gas-powered log splitters.
Wood Splitters Direct features a selection of more than 80 log splitters, in addition to a website packed with product education, testimonials, reviews and best-seller rankings. More than just an online point of purchase, Wood Splitters Direct aims to provide customers with a place to go to learn not just what's available but what's best for their needs. The online superstore excels by employing knowledgeable sales associates, capable of providing solid consumer solutions.
In addition to providing product warranties and free shipping, Wood Splitters Direct sells splitters for practically any need including manual, gas-powered, electric, 3-point and skid steer log splitters. Some of the current manufactures offered besides Swisher log splitters, include Iron & Oak, Ram Splitter, WoodEze and Ariens log splitters, as well as a full line of log splitter accessories such as chain saws.
Wood Splitters Direct a U.S. Direct LLC company is an online resource that provides high-quality log splitters and accessories through a direct-delivery business model. With a goal to offer the best log splitters at competitive prices, Wood Splitters Direct leverages its direct-purchasing power and manufacturer relationships to offer customers low costs and the most efficient deliveries in the marketplace.