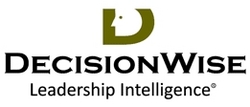 With only one-third of managers receiving benefit from most 360 feedback processes, the need to revisit what most organizations do with their feedback is apparent.
Provo, UT (PRWEB) August 15, 2009
DecisionWise, an international consulting firm specializing in individual and organizational feedback announced today the findings of a two-year research study on 360-degree feedback . This study found that as many as two-thirds of 360-degree feedback processes result in little, if any, change. This study sheds new light on the state of 360-degree feedback in most organizations, particularly given the increased need to generate a return on every dollar spent on employee development. The results of the study will likely cause many Human Resources professionals to revisit their multi-rater feedback processes.
360-degree feedback has become a common tool for development, leadership assessment, talent management, succession planning, and appraisal. Some studies report that as many as 90% of all Fortune 500 companies are either currently using 360-degree feedback , or are considering it. This study found, however, that many of these processes may result in wasted time, money, and effort.
The study was a culmination of two years of research in which over 230 managers were tracked over six-month intervals. Approximately six months after participating in a 360-degree survey, a follow-up process was conducted to determine whether these managers had realized any significant gains in performance as a result of having participated in 360-degree feedback. Results were gathered via interviews and online surveys. The study found that of those managers who participated in the 360 feedback process, and who did not set goals or receive coaching, only 34% reported sustainable results six months later. Nearly two-thirds reported the process resulted in little or no personal or organizational change.
On the other hand, the study found that 94% of those who received coaching (internal or external) and set written goals reported they had made significant changes as a result. DecisionWise CEO, Dr. Tracy Maylett, who led the research team, remarked: "With only one-third of managers receiving benefit from most 360 feedback processes, the need to revisit what most organizations do with their feedback is apparent." He further stated, "The obvious key to success here is pairing 360 feedback with the development of written goals, then providing follow-up accountability and coaching. The 94% success rate when follow-up was included is remarkable, and points to a simple way to dramatically increase the return on this investment."
This study also builds on the DecisionWise body of feedback research emphasizing the need for organizations to revamp their 360-degree feedback process. These findings are particularly important, given that less than one-half of all organizations using 360-degree feedback emphasize goal-setting, accountability, and coaching as part of the process.
More information regarding these studies can be found at http://www.decwise.com.
DecisionWise, Inc. is a management consulting firm specializing in leadership and organization development using assessments, feedback, coaching, and training. Our Leadership Intelligence® process leads to more effective working relationships, higher levels of employee engagement, and increased performance. We provide our consulting and survey services to organizations in over 30 countries, including many Fortune 500 companies, healthcare organizations, government organizations, and non-profits. Our mission is simple and straightforward: "To help people work more effectively by turning feedback into results." DecisionWise was founded in 1996 and is privately owned.
# # #