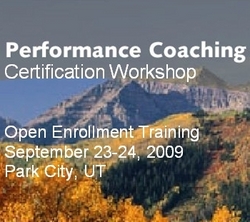 To help people work more effectively by turning feedback into results.
Provo, UT (PRWEB) August 5, 2009
Most 360-degree feedback processes are ineffective. Studies show that only 32% of participants experience any significant change as a result of 360-degree feedback. That's a poor return on investment. However, these same studies also show that over 90% of participants report significant change when they follow some simple steps. The DecisionWise 360 Performance Coaching Certification outlines these important steps and teaches participants how to turn 360-degree feedback into results.
In this 2-day workshop, participants will learn how to coach others, use 360-degree feedback , coach managers on mentoring others, and effectively implement a 360-degree feedback process that produces results in any organization.
Dates: September 23-24, 2009
Location: Park City, UT
For more information and to register, visit: http://www.decwise.com/360-degree-feedback-coaching.html
Session Topics:

Receiving your own 360-degree feedback assessment and report
Using 360-degree feedback for development, appraisal, and succession
Developing an effective 360-degree feedback program in your organization
Rolling out an effective coaching process
Establishing a culture of feedback in your organization
Participants include HR professionals, trainers, internal mentors, consultants, and managers who are involved in facilitating coaching and feedback. Those with the desire to become more effective feedback coaches find this workshop extremely valuable and engaging.
This is a highly interactive, hands-on workshop. As an important part of this workshop, you will receive your own 360-degree feedback and develop a personal action plan. This not only provides you with valuable insights into your own behavior, it helps you understand what others may experience when receiving feedback. This workshop will be facilitated by Drs. Tracy Maylett, Ed.D, and Paul Warner, PhD, recognized experts in feedback and coaching.
This program has been submitted for certification approval through the Human Resource Certification Institute (HRCI).
DecisionWise, Inc. is a management consulting firm specializing in leadership and organization development using assessments, feedback, coaching, and training. Our Leadership Intelligence® process leads to more effective working relationships, higher levels of employee engagement, and increased business performance. We provide our consulting and survey services to organizations throughout the world, including many Fortune 500 companies, government organizations, and non-profits. Our mission is simple and straightforward: "To help people work more effectively by turning feedback into results." DecisionWise was founded in 1996, is privately owned, and based in Provo, Utah.
###