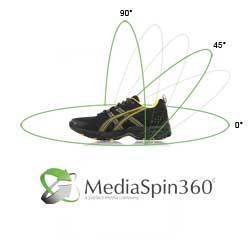 DALLAS, Texas (PRWEB) June 10, 2010 - June 10, 2010 -
"Every angle, every detail" is needed to showcase products online. Both Sennheiser Electronic Corporation and Umarex USA understand the value of providing their customers the most detailed information possible on their products. Now both have over a dozen products featured by MediaSpin360's 3D showcases and many more are in the works.
"It has been a pleasure to work with Preface Media on the development of our Virtual3D imagery for our website, UmarexUSA.com.", says Nichol Goines at Umarex USA, "The team at Preface Media was very flexible and understanding of our needs, timing, and budget structure from beginning to end. In fact, we've already identified additional products that we wish to add to our Virtual3D offering."
MediaSpin360 uses its parent company's online rich media platform to showcase each one of the products using a Flash viewer that is compatible with virtually all desktop browsers. Implementation of 360-degree product demos was fairly simple for Sennheiser and Umarex. They were provided with a few lines of code to place wherever they wish the demo to appear on their website. In mere 5 minutes the demos were online. The 360-degree product viewer allows the users to freely zoom up to 400%, pan, print and rotate the virtual product providing an unforgettable experience. The 360-degree demo products on Umarex's web site can also be viewed at both 0 degrees and at 45 degrees elevations. This gives the customers even more viewing angles and product details at their finger tips.
Product photography is very important for any online presence. Sennheiser used to have only a few images on their site for each product but after the 360 degrees product demo was implemented their customers can now zoom and spin the product discovering every inch of it.
The combination of the professional photography studio of MediaSpin360 and the rich online application platform of Preface Media showcases an online product as if the customer is holding it and inspecting it at the store. This rich media solution offers extended customization for all the client's needs. Preface Media offers custom branded skins, hotspots, mapped zoom, offline and soon a 360-degree viewer for mobile phones. Based on web site analytics, users stay three times longer on a Virtual3D showcase web page compared to traditional product photography one. Although 360-degree product photography presentation is still in its infancy, cutting edge retailers are already planning to have some sort of spin photography implemented by the end of this year. It is a vastly superior solution compared to traditional flat photography since all the high resolution 360-degree images are produced by a professional photo studio such as MediaSpin360. The studio is equipped with the most advanced precision rotating robotic camera and lighting equipment to take all the products to the next level of online presentation.
About Preface Media, Inc.
Preface Media Inc. provides client care, technical expertise, creativity, and integrity for Web applications. We develop and host custom dynamic Web content solutions that seamlessly integrate into your existing infrastructure and bring your business to life online. The Preface8 platform offers one of the industry's most robust dynamic image servers and award winning interfaces to suit all your rich interactive application needs. We are equipped with state-of-the-art photography studio (MediaSpin360) to showcase your products to the next level with a complete 360° interactive solution. We are your one stop solution for all your rich media needs which includes interactive product configurators, online video demos, flash digital magazines and virtual 3D.
About Sennheiser
Sennheiser is a world-leading manufacturer of microphones, headphones and wireless transmission systems. Established in 1945 in Wedemark, Germany, Sennheiser is now a global brand represented in 60 countries around the world with U.S. headquarters in Old Lyme, Connecticut. Sennheiser's pioneering excellence in technology has rewarded the company with numerous awards and accolades including an Emmy, a Grammy, and the Scientific and Engineering Award of the Academy of Motion Picture Arts and Sciences.
About Umarex
Umarex USA began with the acquisition of Ruag Ammotec USA (Dynamit Nobel), North American marketers of the famous RWS brand of premium adult airguns. Combined with the world class products from German based Umarex, the parent company of Walther Firearms, Umarex USA has quickly become one of the premier providers of airguns and airgun accessories to North America.
CONTACT:
Jessica Washington
Preface Media, Inc.
Tel: 972.996.4717
Fax: 866.616.9556
Web Site: http://www.PrefaceMedia.com
###