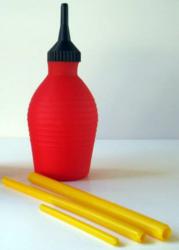 Shooting up, down, or sideways, the Dustwand hits the spots
North Lauderdale, FL (Vocus/PRWEB) February 01, 2011
With springtime coming there is no way to escape insect intrusions. Even in your vehicle, ants and other insects may show up at any time that the temperature is above freezing, or here in Florida, all twelve months of the year. Liquid and aerosol pesticides available to the public and the pest control industry produce obnoxious odors and afford short-lived protection against crawling bugs. Spraying an aerosol or liquid insecticide at ants or cockroaches in the kitchen may kill the bird in the back bedroom. Those same obnoxious bird killing vapors may not be good for the health of the family that lives there, either.
Once applied, most of the dry type insecticide formulations produce no odors while affording protection for long periods of time. And requiring re-treatment far less frequently saves the user time and effort. The problem with the dry insecticides was that there was no suitable one-hand applicator for them. No one-hand duster was available that could dispense both upward and downward onto pest harborage and travel surfaces where insects such as ants and cockroaches may be found. This severely limited their ability to stop or prevent infestations.
Finally there is a tool that can deliver the dust to knock them out of your property and prevent their return for long periods of time. The Dustwand was developed by a professional pest control technician to deal with the need to cover any and all harborage and travel surfaces with dry formulations. Dispensing both upward and downward, the Dustwand also provides superior particle separation for uniform coverage, vital to effective pest control. The Dustwand's patented* double-baffle outlet system gives its users the ability to reach problem spots ending the problem, and eliminates the delay waiting for outside assistance. Within structures, loaded with low environmental impact insecticides (such as boric acid, diatomaceous earth and baking soda), Dustwand delivers long lasting protection whenever called upon, wherever needed.
About the Dustwand company: Beginning pest control operations in Florida in 1981, the need for a 360-degree dust applicator providing good particle separation was realized, developed and patented. The 360 Dustwand is in use all across the United States.
For more information, please visit http://www.dustwand.net/
*US Patent #RE37760
###