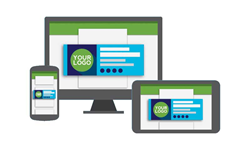 Adding 360Monogram to our Office 365 has made it easy for us to focus on making our clients happy, which makes us happy.
Toronto, Canada (PRWEB) June 14, 2016
360 Visibility is excited to announce that Vachon Insurance Group has implemented 360Monogram – our new, cloud-based, email signature service for Microsoft Outlook and Office 365 – to manage and deploy all employee email signatures.
"Since we started using 360Monogram, we no longer have to worry about how our email signatures are going to look or how we are going to manage updates for all of our staff," says Conrad Vachon, President at Vachon Insurance Group. "Every single employee has the right email signature with all of their information dynamically added, and we know it works on everyone's computer and their phone. Adding 360Monogram to our Office 365 has made it easy for us to focus on making our clients happy, which makes us happy."
360Monogram
360Monogram is a simple and easy cloud solution for Microsoft Outlook in Office 365 that does away with the unknown perils of creating, deploying, and managing corporate email signatures. 360Monogram provides businesses with unprecedented ease of use and consistency to this business staple.
Integrated with the Microsoft Azure Cloud for email signature file storage and fast, global accessibility, 360Monogram utilizes built-in Windows functionality to fully manage and automate the tedious task of ensuring every staff member has the right email signature, complete with their contact information.
360Monogram turns your email signature into a powerful marketing tool. Rapidly deploy updated signatures that include your unique marketing message or promotion so you don't miss the boat on new business.
Convey your brand's promise effectively – anytime, anywhere, on any device. Sign up for 360Monogram today!
About Vachon Insurance Group
Vachon Enright & Peter Insurance is a family owned and operated independent insurance brokerage conveniently located in Etobicoke on the border of Mississauga. Our insurance partners are among the largest and most stable insurance companies in Canada.
At Vachon Enright and Peter Insurance we are continuously working to provide the individual coverage you require. When it comes to protecting your auto, home, business and family, don't leave it up to chance. At Vachon Enright & Peter we take pride in our business and strive to be relationship specialists providing you with the total insurance solution for all your needs. Being insured with the best has its advantages.
About 360 Visibility
360 Visibility is a Toronto-based Microsoft technology solutions provider that assists clients around the globe. We are dedicated to enabling medium, enterprise and government organizations to make swift, well-informed and profitable business decisions.
360 Visibility is a Microsoft Gold Partner for Microsoft Dynamics NAV & Dynamics GP, Microsoft Azure Cloud Platform & Cloud Productivity, an Office 365 Preferred Partner, and the winner of the 2015 Microsoft Canada IMPACT Award for Fastest-Growing Cloud Provider in Canada.
For corporate inquires, contact:
John Saund
360 Visibility
Phone: (416) 639-1737
Fax: (905) 907-3601
jsaund(at)360visibility(dot)com
http://www.360visibility.com