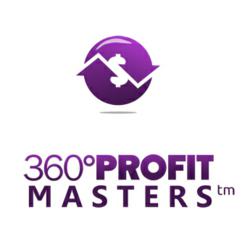 We predict it will wipe out over 25% of existing US small businesses over the next 24 – 36 months.
Cary, NC (PRWEB) September 14, 2011
The recent changes in the financial market and world events have stirred up a storm ready to hit small businesses in the coming months. Yet most businesses stand totally unaware of it … and most are totally unprepared for it.
360 PROFIT Masters™ today announced the launch of its new Financial 360 Flight Plan Program, designed to help small businesses navigate, grow and thrive through the current, challenging economic environment.
Stan Moore, CPA and Partner of 360 PROFIT Masters™ " stated, "With all the recent changes in our financial market and world events, we predict that the USA will lose over 25% of existing small businesses over the next 24 – 36 months, said "The old days of a business walking into their bank to get an easy loan are over. Knowing the new rules and how navigate the new economy will be critical for the small business to succeed in the coming years."
There are three major changes creating "the perfect storm". First, recent mandates of government regulation on banking is making it virtually impossible to make loans to small businesses with negative financial trends. Secondly, to increased regulations on banks, the FDIC's "loss sharing" arrangement related to acquisitions of troubled banks is disguising the true weaknesses underlying the stagnant economy.
Lastly, but most importantly, many business owners have not adapted their business models or pricing models to adapt to the changes impacting how their clients are purchasing, communicating and buying products and services today and to the changes in the cost of doing business including the all in cost of capital.
The Financial 360 Flight Plan program provides a systematic, comprehensive approach to assist existing small business owners by creating a road map, or "FLIGHT PLAN, to manage the paradigmatic change required to improve profitability, acquire capital and ultimately increase value.
"We're passionate about educating and empowering entrepreneurs' about the changes they can make to weather the storm and live another day. " says Susan Hasty, Stan's Partner in 360 Profit Masters.
In addition to The 360 Financial Flight Plan, 360 PROFIT Masters will hold monthly Executive Education Workshops. The Executive Education Workshop Series will be both live and web based and delivers in-depth business growth training covering fundamental and advanced elements of leveraging business, capital and financial strategies to create accelerated business growth.
The next workshop titled "Insider Guide to Getting What You Need from Your Bank" will be held September 22, 2011.in Raleigh, NC and will cover the following topics:
How to explain the difference in cash flow and profitability.
Why explaining your financial trends is crucial to your loan request.
How to assure your bank perceives you as a worthy risk
How banks equate "risk" with "return"
Why your tax returns can ruin the bank's perception of you
Understanding bank loan relationship pricing
How financial information can tell the right story
Contact Susan Hasty with 360 Profit Masters with any questions at 919-749-5910 or by e-mail at shasty(at)360profitmasters(dot)com. Sign up for upcoming announcements on the website at http://www.360profitmasters.com
###