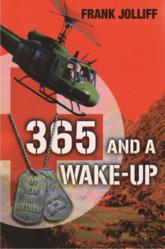 The Vietnam War still evokes strong emotions and nobody who lived through that era is immune.
Sterling Heights, MI (Vocus/PRWEB) March 31, 2011
March 8, 1965, the first U.S. combat forces arrive in Vietnam and when the war finally ended in April 1975, more than 2 million American men and women had served in the war effort and of that, 58,196 names of fallen soldiers have been etched into the wall at the Vietnam Memorial in Washington, D.C.
Author Frank Jolliff was just one of those men. He spent his time serving as an infantry combat medic during the Tet Offensive. From January 1968 to January 1969 he became a warrior and at just twenty years old, he was sent to the rice paddies of Vietnam. He came home with a personal victory, the Silver Star; but it took twenty-five years devoted, as he says, to the memories of those 365 days before he could finish writing his story.
The Vietnam War still evokes strong emotions and nobody who lived through that era is immune. The war in Vietnam simply touched everyone. Reading Jolliff's insightful look behind the lines is a must-read for those who lived through it and those who could not.
In mini boot camp, Jolliff recalls his Master Sergeant, who began his welcoming speech, "You popeyed trainees are playing hardball now and if you screw up, you or one of your friends dies. So for the next three days, I want your undivided attention because from now on it's all for real. Just remember this, there are only two kinds of people in Vietnam, the quick and the dead."
Frank Jolliff is the kind man you would want in the foxhole with you, and for that very reason he is exactly the soldier to reveal the truths as he saw it each day, in part as a homage to those who served and for whom the war continues as real as if it had just happened.
To learn more about Frank Jolliff and his book, visit http://www.frankjolliff.com
"365 and a Wake-Up" is published by Harmonie Park Press. Review copy available upon request. Author available for interview.
###