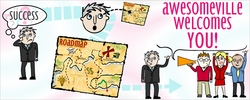 Incubating startups for success, 365 Days of the year.
Wilmington, NC (PRWEB) September 30, 2010
Announcing the launch of http://www.365daysofstartups.com, a new website and community completely dedicated to bringing together the best in startup entrepreneurs, startup experts, and business mentors. This content rich site provides users daily resources and education articles, as well as weekly interviews with the top business experts. Topics range from marketing, to business operations and management, to startup law issues, to customer relations and everything in between. Throughout the year, different sponsors offer free downloads, educational resources, discounts, and unique consulting opportunities for registered participants.
Laura Petrolino is the personality behind 365 Days of Startups. As Managing Director of Flying Pig Communications, a communications and business consulting firm which focuses on startups and small business, Laura is well versed in the unique needs of the startup community. She brings all of her communications and business development know-how to 365 Days of Startups, for visitors who may or may not be able to afford their own business consultant.
eMentor Marketing (http://www.ementormarketing.com ) is the inaugural sponsor of 365 Days of Startups. Headed by Debra Leitl, Mentor in Residence, eMentor Marketing provides business mentoring via the web, phone calls and online chats. eMentor Marketing clients and members have access to exclusive members-only business guides, customizable content, and the ability to practice implementing new strategies on a live e-commerce site.
365 Days of Startups is part of the 365 Days of. . . Everything network. These websites and communities allow entrepreneurs to run their own businesses centered around their passion. Each website is hosted by a topic expert, and features original content from all segments of the topic market. For more information about joining the 365 Days of. . . network, please contact katie(at)365daysofeverything(dot)com For more information about 365 Days of Startups, contact Laura Petrolino at: laura(at)365daysofstartups(dot)com.
###