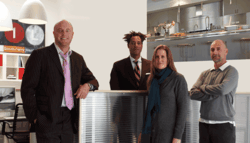 design should enrich one's experience of space and should suit a lifestyle.
St. Helena, CA (PRWEB) September 15, 2011
Since its founding in 2009, 38Spatial has quickly claimed a corner on the contemporary design market.
Together, the team at 38Spatial has been awarded for its contribution to the "10 Best New Homes" by Metropolitan Home: Palm Springs. This project also earned accolades in the Dwell Home Tour and the Palm Springs Modern Tour. 38Spatial's Sunset project in Santa Monica was recognized in LA Architect "West Coast Rooms" by Rockport Publishing and the firm's recent projects: The Loft, Pollen8, and San Anselmo have each earned top accolades. With its variety of projects on the board the 38Spatial team was recently asked to serve as the lead design team for the Napa Valley Vine Trail and the firm is currently designing a 7200 sq. ft. private residence in St. Helena, California, as well as a 3600 sq. ft. addition in Arlington, Virginia.
What is so unique about this firm's breadth of work is their ability to streamline the process from foundation to finish or, in their words, to fully integrate the practice of design, develop, dwell. As Founding Partner/CEO and real estate broker, Alexander Barrett, says "design should enrich one's experience of space and should suit a lifestyle." So, there is always a sensitive regard for both site and function and the team is very mindful of light, context, materials, technology, craftsmanship, and even the geographical context, or critical regionalism, of the particular site.
38Spatial is able to execute each commissioned phase of their clients' requirements under one roof: from the conceptual design through development, to the interior design and ultimate sale. And because 38Spatial is also a licensed real estate firm, their ability to streamline elective services helps the client maintain a pragmatic budget and remain on schedule. This process makes it truly possible to achieve consistency from conceptual design, allowing seamless collaboration to execution of the product.
Unlike traditional architectural firms, 38Spatial has a think tank, open studio environment. Barrett created a space conducive to this kind of lively exchange of ideas and information with clients.
After his formal training at Pratt Institute in New York, Barrett founded his first design firm Progetto Barrett which invested primarily in designing and building luxury apartments and lofts in New York City. His early work provided the seed to attract the talent of acclaimed architects, designers, and interior designers and to expand to what is now 38Spatial, Inc.
Architect and Partner, Jackson Butler, has practiced design and architecture for over twenty-five years. His portfolio includes work for GAP, Inc., Pugh + Scarpa, and Frank Gehry and Associates. His work has been cited in a variety of design and architectural publications including Metropolis, Architecture, Interior Design and Metropolitan Home. In 1995, he co-founded the notable design firm Hedge Design Collective in Los Angeles. Butler received his MArch from the Southern California Institute of Architecture.
Designer, Michael Roche, was lead brand designer for client companies such as GAP, Inc. and Smith & Hawken. Roche was instrumental in the Smirnoff Red Label Vodka redesign, the naming of Thomas Keller's Per Se, and the brand strategy for a host of clients, including 24-Hour Fitness and Gott's Roadside. Roche earned a BS in Environmental Design and received his MArch from UC Berkeley.
Interior Designer, David Mast, has garnered an impressive portfolio of interior, landscape, and lighting design commissions internationally. His work includes custom homes and commercial spaces, some of which have been featured in publications like California Home + Design and The San Francisco Chronicle. Mast was trained at the UC Berkeley Design School.
This is a design firm to watch closely.
###