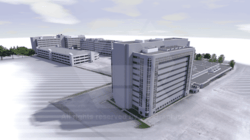 QA Graphics produces compelling photorealistic 3D renderings, animations and photo composites.
Ankeny, Iowa (PRWEB) January 18, 2013
QA Graphics, an Iowa interactive design company, is pleased to announce the hiring of John Brix. John has joined QA Graphics as their newest 3D designer. The company continues to experience steady growth and has created this new role to keep up with the increased demand for 3D design services.
As a 3D designer, John will produce compelling photorealistic 3D renderings, animations and photo composites. He'll create realistic product representations for clients and also assist the interactive design team in producing 3D graphics and animations for a variety of touchscreen applications and other multimedia.
QA Graphics works with clients all over the U.S. as well as internationally, providing interactive applications for use on kiosks or touchscreens, on the web, and on mobile devices, interactive sales tools, mobile apps, 3D design, animated videos, and other multimedia. QA Graphics also offers comprehensive design services for the building industry including HVAC graphic design services, 3D design and their industry leading product, the Energy Efficiency Education Dashboard®. The Energy Efficiency Education Dashboard is an educational solution that allows users to interact with mobile devices, touchscreens or kiosks to view how efficient a building is and to learn more about sustainable initiatives that are in place. The solution has been nationally recognized as an innovative product and honored with several awards.
John earned his Bachelor of Fine Arts from Iowa State University, with a minor in Digital Media. He is experienced with Autodesk Maya, Inventor and Revit, as well as Adobe After Effects, Photoshop, Illustrator and Flash. He has also worked with Cinema 4D, Solid Works, Unity, AutoCAD and Zbrush. Prior to QA Graphics, John worked as a lead digital artist at Virtual Reality Applications Center. QA Graphics is excited to welcome John to the team.
About QA Graphics
QA Graphics is an Iowa-based interactive design company specializing in touchscreen applications, 3D design and animation, mobile app development and other multimedia. The company is also a leader in the building automation and green building industries, providing HVAC graphic development services and energy dashboards to help organizations educate occupants about building performance and sustainability.
To learn more about QA Graphics visit http://www.qagraphics.com.