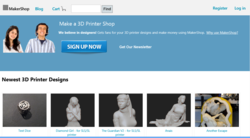 The opening of my web shop was free and was made in ten minutes without a problem.
Charlotte, NC (PRWEB) June 11, 2013
Online 3D printing design marketplace MakerShop released an online resource for different ways designers can monetize 3D printer designs. The industry is still in its infancy and as with many disruptive businesses, business owners and entrepreneurs are trying to find the best way to make money off the new 3D printer technology opportunities.
SpiveyWorks made the MakerShop online 3D printer marketplace to be a platform to support designers so they can get fans and make money. It found that traditional and straightforward make-and-sell approaches are not always effective with 3D printable digital designs. Its list of ways to monetize 3D printing designs includes additional approaches like unlocking a design by accepting donations, so that a design becomes free to everyone after any number of people have contributed the total number of dollars the designer asks for.
The top online 3D printing shop on the MakerShop online marketplace, Fantasygraph, commented on the MakerShop website, "For a long time, I tried to find a good website to run my own web shop for my 3d printing product. As soon as I found MakerShop, I knew that I had found my place. The interface was neat and professional, and the opening of my web shop was free and was made in ten minutes without a problem."
Monetizing a designers work can require more creativity than just doing what the online marketplace explicitly enables. This is why having a flexible web shop platform, like the MakerShop online marketplace, lets designers experiment with many different combinations of strategies to successfully earn money for their work. Unlike competitors, the MakerShop web shops let 3D printer designers accept donations and partial payments that can be combined to crowd fund a design.
MakerShop is also asking that people who have alternative ways to monetize 3D printing designs add to the list by commenting on the blog post.
SpiveyWorks Corporation is a small business based in Charlotte, NC that designs apps to empower individuals in their daily lives on whatever device they happen to be using.