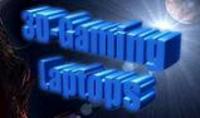 3D gaming laptops and electronic products will be the next BIG thing in both gaming and home entertainment.
(PRWEB) March 23, 2010
A new website called 3D-GamingLaptops.com has just been launched by Bizwaremagic.com, an online marketing site. This new site will present products, articles and videos on all aspects of the new True 3D technologies currently coming onto the market, but the site will mainly concentrate on 3D gaming laptops and PCs.
New True 3D technologies will no doubt change HOW we view content in the future. Not only in our living rooms but probably also in the workplace, especially if we see the advent of 3D products which don't need special polarized glasses in order to view the images. Some major electronic companies are rumored to be working on these new "Autostereoscopic" 3D technologies, which would certainly revolutionize TVs, monitors and computer displays. It would have far reaching benefits way beyond just mere entertainment.
However, for now it is in the entertainment field which has brought 3D back into the forefront, especially with the recent release of the hit 3D movie Avatar. This top grossing movie has bought everyone's attention back to 3D, a viewing process which has been around for well over a century if you consider the first patent for 3D was made by William Friese-Greene in the late 1890s.
While 3D is not exactly commonplace yet, it does open up a whole new area of demand in electronics. We have already seen Samsung, the world's largest LCD TV maker, introduce 3D Television sets to eager customers and Sony is already on record as saying they have plans to make its Vaio PCs, PS3 game machines and its Blu-ray players, all 3D in 2010. Sony is also introducing 3D TVs - 38 models which range from 22" to 60" in size. These 3D TVs were a big smash at the latest CES (Consumer Electronics Show) this year in Las Vegas.
Computer gaming is another area where we have seen the use of 3D images especially in high-end gaming laptops and PCs. Along with High Definition 1080p displays, 3D images are in high demand by gamers who want the best gaming experience possible.
"With regards to gaming, probably the turning point has been the release of NVIDIA's GeForce 3D Vision Kit," states Titus Hoskins, a former art teacher who is now a full time online marketer. "This kit includes shutter glasses and powerful 3D Graphics software which makes 3D technology available to gamers."
However, many skeptics are saying it will take some time before the buying public embraces 3D, mainly because there is very little 3D content currently available, which could discourage the process of this new technology. But just like we have seen with High Definition TVs, give consumers a better viewing experience and they will open their wallets, probably sooner rather than later.
3D-GamingLaptops.com will feature all the latest 3D gaming laptops as they become available to the buying public. The site will also feature 3D movies, 3D games, 3D monitors, 3D equipment and hardware. The site was created in partnership with Bluray-Dvd-Players.com, which did some of the videos and graphics for the new site.
To find out more about this new site and to view some 3D products already on the market go here:
http://www.3d-gaminglaptops.com/
About Us: Bizwaremagic.com is a leading website on Internet marketing which regularly receives around 60,000 unique visitors each month. It runs numerous niche websites such as http://www.laptopcomputerguide.org where you can download our handy Laptop Computer Guide. Bluray-dvd-players.com - is a partner site which features all the latest information and discounts on bluray dvd players.
###