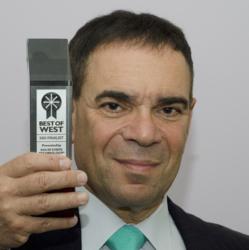 We need to form a special fast-track route to green cards for those that demonstrate outstanding know-how, skills, and talent.
San Jose, California (PRWEB) August 18, 2011
The future of the US economy is undoubtedly dependent on the country's ability to sustain its technological leadership. MonolithIC 3D Inc., a Silicon Valley company, says it is unfortunate that the US is mishandling its most precious resource in this battle - human talent.
"In September of 1995, I was honored to join Gordon Moore of Intel and Bill Gates of Microsoft in a letter to Congress to express concerns about specific provisions of H.R. 2202 - an immigration reform legislation that was moving through Congress to reduce the number of H1 visas," writes MonolithIC 3D's President and CEO, Zvi Or- Bach, in a recent blog-post.
The number of H1 visas was reduced in 2003 to 65,000, a cap that was reached in most years since then. In addition, the US limits the annual visa quota for advanced degrees earned by students from abroad at 20,000, while annually more than 42,000 non-residents earn advanced degrees (MSc and PhD) in science and engineering. In other words, more than half of these talented young scientists and engineers are forced to go home immediately after earning their advanced degrees.
"An illustrative case of a mindless throw of the dice instead of thoughtful selection is our Chief Scientist, Deepak Sekar, who is doing a tremendous job for MonolithIC 3D Inc. and had a very impressive record even when he applied for the H1B in 2008," says Or-Bach. "In that year, 150,000 people applied for 65,000 H1B visas. A computer-based random lottery was performed to give out the visas. It is sheer luck that he is in the United States today!"
The prevailing view in the general public is that immigration is bad, as foreigners take away jobs that otherwise would be available to US citizens. And especially in bad times when unemployment is high, such a view becomes even more dominant. It is not surprising that soon after the "Tech Bubble" burst, Congress reduced the cap for H1B visas from 195,000 to 65,000.
"But the truth is just the opposite," says Or-Bach. "Talent is the number one force in innovation and wealth creation, especially in high tech. Data from a 2009 Brookings Institution study shows the immense impact that immigrants have had in innovation (1100 patents granted per 10k immigrants vs. 360 patents granted for US born)."
As an invitation for the best minds of the world to come here to stay, we need to form a special fast-track route to green cards for those that demonstrate outstanding know-how, skills, and talent, suggests Monolithic 3D. Simple criteria could be quickly established. For example, any foreign student that graduates in the top 20% of his or her class from one of the USA's high ranking schools, should be fast-tracked for a green card. A similar criterion could be established for those who work in the high tech field on temporary visas.
"The US was once a technological world leader far ahead of anybody else," laments Or-Bach. "But as many of the people who been trained here went back to their home countries, we are seeing this leadership come under extreme pressure from foreign nations. We should act now to resume our leadership. We just need to be courageous to act."
Zvi Or-Bach's detailed blog-post on this subject can be found here.
About MonolithIC 3D Inc.
MonolithIC 3D Inc. is an IP company dedicated to innovation in semiconductor design and fabrication. It invented and developed a practical path to the monolithic 3D Integrated Circuit, which includes multiple derivatives for Logic, Memory and Electro Optic devices. The company was recently selected as a finalist of the Best of Semicon West 2011, which recognizes the most important product and technology developments among the 746 exhibitors at Semicon West. More information about the company, including detailed technical information, can be found at http://www.monolithic3D.com.
###