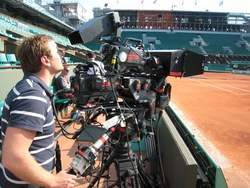 London, UK (PRWeb UK) June 29, 2010
Can Communicate, http://www.cancommunicate.com (CAN), the 3D film and TV production specialist, recently delivered live 3D coverage of the 2010 Roland Garros French Open tennis championship, in what is believed to be the longest continuous 3D shoot in Europe to date. CAN worked with French OB specialist AMP to deliver the project for Orange and Panasonic.
CAN was appointed to facilitate the specialist 3D requirements to provide live match footage from Court Philippe Chatrier (centre court) via four active 3D rigs throughout each day of the tournament. This mammoth task included building the Element Technica Quasar 3D rigs and converting them to the configuration best suited to the 3D camera positions available, plus the complex mechanical and optical alignment of the 3D parameters.
Each rig position was manned by a dedicated CAN convergence puller who controlled the effective inter-ocular distance between the cameras and appropriate convergence for optimum 3D. Pairs of discrete feeds from each 3D rig was then fed into the AMP OB truck via four 3D processors, where CAN's stereographers and AMP's technicians monitored precise aspects of all the rigs for immediate corrections. They also kept in constant communication with the directors, vision mixers and convergence pullers, to make them aware of any issues as they arose and any required maintenance to the rigs.
The 3D feed of Roland Garros centre court matches was used by Panasonic to launch its new 50-inch Full HD 3D Viera television across 3000 consumer electronics retail locations throughout Europe, where action was shown on 3D televisions. The 3D telecast was also used to launch Orange's new dedicated channel, delivering to homes in France Telecom's Orange-TV subscribers. Additionally the men's final was screened live in 150 cinema screens across France.
John Norman, CAN Communicate, said, "The Roland Garros tournament was perhaps our most testing 3D project to date, shooting up to ten hours of live action every day for two weeks. The use of the fully active rigs played a huge part in our ability to deliver a great 3D feed without having to set and re-set each shot for 3D - which for a live and ongoing transmission is really essential. Our collaboration with AMP, with whom we have worked on other sporting and cultural events, was another great success."
# # #