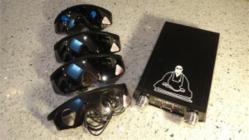 Los Angeles, CA (PRWEB) October 11, 2012
MindMachines.com announces the new pROSHI 3D Neurodynamic Activator. This new edition of the pROSHI mind machine features the innovative new 3D light stimulation developed by ROSHICorp's Chuck Davis. The pROSHI 3D light stimulation technology takes advantage of the fact that the pROSHI has always been capable of servicing two users at once. However, due to the way that ROSHI technology works each user gets a unique stimulation set. Each of the two stimulation sets has two channels. So, the pROSHI actually generates four distinct channels of stimulation. The pROSHI 3D lightframes use all four channels of information for one user, doubling the stimulation information. This makes the unit even more effective with results are nothing short of spectacular. The pROSHI is a favorite device of EEG Neurofeedback professionals, clinicians and individual users alike.
"Just checking in to let you in on my latest report. Hooked myself up to Cygnet for a NFB session on Friday for the first time since i got the 3D glasses. Watched my brain just on monitoring w/o feedback for a few minutes. Been doing that with a lot of my clients when I put the 3D glasses on. Chuck, for many of them, based on what I see on the spectral display, it looks like the glasses are doing NFB work…w/o using the system feedback! But you knew that, eh? So my brain has never looked better. Theta clearing, alpha is up. Still need more SMR beta…hoping that will come in time:) I am feeling better. Still some trouble with focus, but feeling better, must be the alpha:) It was confirmed this week I am in the throes of adrenal fatigue from stress and PTSD so best I just stay here for a while I guess. Thanks for making my brain happy again Chuck, you are my hero!", says Becky Bassham about the new pROSHI 3D light stimulation glasses.
The pROSHI 3D system is now available at mindmachines.com, the official world wide distributor for ROSHICorp. In addition to this new light stimulation upgrade the price of the system has been reduced to $1995 down $155 from the previous model pricing of $2150.
Fred Williams, mind machine expert and product specialist, says, "It is absolutely awesome to offer our clients a huge upgrade in features due to the new pROSHI 3D light glasses and make the unit even more affordable at the same time. For the first time ever the pROSHI is available for less than two thousand dollars. Customers will save $155 of the previous pricing and get more for their money. It is a win for everyone.".
MindMachines.com is a world wide mind machine information center and online retailer for the highest quality light and sound mind machines. They are the official world wide distributor for ROSHICorp, makers of the pROSHI. For more information about the pROSHI or mind machines visit mindmachines.com.