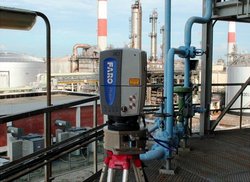 Cincinnati, OH (PRWEB) July 27, 2010
3D Engineering Solutions, Cincinnati-based engineering services company, expands its capabilities to broaden their range of metrology services to include the latest Laser Tracker and Long Range 3D Laser Scanning technology for 3D data collection in aerospace, nuclear, automotive and industrial markets. These new long range capabilities complement 3D Engineering's 7-axis portable CMM's with Laser Line Probes, 3D data collection, CAD modeling and reverse engineering services, allowing an integrated approach for meeting customer needs.
With this latest area of support, 3D Engineering Solutions applies its engineering expertise and 3D scanning services to emerging industries and applications such as nuclear facility mapping, wind energy blade and turbine manufacturing and Building Information Management (BIM). The company's engineers use the latest portable scanning/data collection tools for larger scale work; including the Faro ION Laser Tracker and Faro Photon Long Range Laser Scanner.
"If required, all of 3D Engineering Solutions laser-based data collection systems are portable and able to travel on-site to customers' facilities for data collection", says 3DES Project Engineering Manager, Rob Glassburn. "One of the exploding markets for us is 3D laser mapping of buildings and facilities. Many times customer requirements for facility mapping go beyond old school 2D surveying and photogametry; requiring precise 3D CAD modeled measurement data. The ability to tie in the multiple touch-less, 3D laser scanning data collection products is key to accurately capturing and modeling the data needed on-site for our demanding customer applications today and in the future."
About 3D Engineering Solutions:
Customers rely on 3D Engineering Solutions to design process tooling and fixtures for the automotive, industrial, green energy, nuclear and aerospace industries, using engineering tools such as Unigraphics NX7 Mach 3 CAD platform, with data transfer via 3D's secure FTP site. Leading edge point cloud software, InnovMetrics PolyWorks allows a common software platform for collecting data across all of Faro laser-based data collection platforms. In addition to reverse engineering services, 3D Engineering Solutions is registered with the State of Ohio for Professional Engineering and ISO17025 accredited for certified third party inspection. In their 5th year of operation, the company maintains a state-of-the-art, climate controlled metrology lab; servicing the Midwest OEM needs for 3D laser scanning, data collection, 3D CAD modeling, FAI / PPAP inspection, and reverse engineering services. 3D Engineering Solutions brings more than 100 years of collective experience to every engineering project. For more information about Long Range Laser Scanning services or general information about 3D Engineering Solutions, call 513-771-7710 or visit the company's website at:
# # #