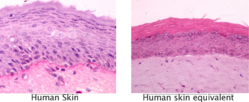 The 3D Human Skin Equivalent eliminates many of the challenges associated with other commercially available skin equivalents.
St Paul, MN (PRWEB) August 01, 2012
MD Biosciences, a preclinical CRO, in collaboration with Fraunhofer IGB announces a revolutionary, in vitro preclnical 3D human skin equivalent (HSE) system. The model enables scientists to measure the penetration, resorption, metabolism and epidermal impedance in a human skin equivalent system. Penetration across the layers is visible, enabling the determination of intracellular drug transport. The system offers two uptake routes for drugs:

Direct uptake by cells following topical administration
Deposition in skin cells following administration of drug through vascular system
The 3D HSE is a two-layered structure closely resembling natural human skin. The dermis layer is composed of dermal fibroblasts, embedded in a biomatrix consisting of tissue-typical matrix proteins. This serves as a scaffold for epidermal keratinocytes seeded on them. The keratinocytes differentiate into a multilevel epidermis with Stratum basale, Stratum spinosum, Stratum granulosum and Stratum corneum. Due to the interaction of fibroblasts and keratinocytes between the dermal and epidermal sections of the skin model, a functional basal membrane consisting of matrix proteins is developed.
Additionally, the HSE system can be vascularized using BioVaSc technology:

De-cellularized jejunum for the appropriate scaffold material
Tubular structures are seeded with microvascularized endothelial cells leading to the synthesis of extracellular matrix including capillaries
Uniform tissue is made with no separation of layers or shrinking of skin enabling longer cultures
The vascularized 3D HSE system serves as an important advancement in the area of skin equivalents for use as a drug development tool. It eliminates many of the challenges associated with other commercially available skin equivalents such as low barrier properties, skin shrinkage due to inefficient scaffolds, short term culture limitations and lack of blood vasculature. By incorporating tissue-specific cells, the technology can be applied to multiple areas beyond skin such as infections, wounds, tumors and organs. To discuss how this technology can advance your particular program, contact MD Biosciences or watch a brief overview of the system.
About MD Biosciences
MD Biosciences is a Preclinical and Clinical Contract Research Organization (CRO) providing services for biotech/pharmaceutical, medical device and animal health. Our core therapeutic focus is in inflammation/autoimmune, neurology/CNS disorders, pain and cardiovascular as well as the interplay between the inflammatory, neurology and cardiovascular systems. Our approach is to work backwards from the clinic, understanding what the clinicians would expect from an active compound. This approach and understanding enables the development of models and biomarkers that help break the preclinical/clinical barrier and provide more clinically relevant data at earlier stages.
About Fraunhofer IGB
Fraunhofer IGB develops and optimizes processes and products in the fields of medicine, pharmacy, chemistry, the environment and energy. Fraunhofer combines the highest scientific quality with professional expertise in fields of competence always with a view to economic efficiency and sustainability. Fraunhofer IGB is one of more than 80 research units of the Fraunhofer-Gesellschaft, Europe's largest non-profit organization for application-oriented research. Fraunhofer IGB has obtained a patent for the three-dimensional human skin equivalent (patent ID: EP 1 290 145 B1) and in 2009 developed the biological vascularized matrix (BioVaSc) winning a technology prize for "human-centered" technology by the Fraunhofer-Gesellschaft.
--------
The information in this press release should be considered accurate only as of the date of the release. MDB has no intention of updating and specifically disclaims any duty to update the information in these press releases.