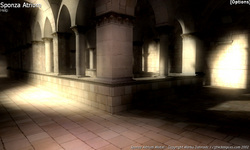 Hamburg, Germany, (PRWEB) October 13, 2009
Codeblend announces release of Version 1.1 of Click-VR Visualizer, the real time rendering plugin for Autodesk 3ds Max. The major update offers a higher level of realism in interactive rendering, previously not available in 3D authoring tools.
Click-VR Visualizer is a 3D real time authoring tool that is seamlessly integrated with Autodesk 3ds Max. It allows users to create interactive 3D content without any programming skills and to publish it royalty-free in minutes.
Users from various industries have benefited from Click-VR Visualizer since its initial release, including architectural, interior and industrial designers, advertising, expos and conferences, game studios, and many more.
New and improved rendering features have been implemented in Click-VR Visualizer 1.1, enabling the user to create more realistic interactive scenes than previously possible with 3D authoring tools. The new real time lighting technology supports area lights that cast soft shadows with variable size penumbras. The improved effects now include a high quality depth-of-field effect with an interactive auto focus. Further a fast GPU (graphics processing unit) based global illumination solution is available, which eliminates the time consuming process of lightmap bakening.
In addition more improvements include:

Users can now integrate 2D user interfaces created with any Flash authoring tool
Support for Autodesk 3ds Max 2010
Support for V-Ray lightmaps and materials
Gamma correction for input textures and rendering output
Speed improvements for bigger, more complex scenes
Improved unwrapping algorithm for lightmap rendering
It is possible to test the 3ds Max plugin free.
About Codeblend
Codeblend provides state of the art real time rendering solutions and tools for architectural, media, entertainment and other industries. Codeblend started its business in 2005 and released the first product Click-VR Visualizer in 2007. For more information about Codeblend, please visit http://www.codeblend.com
Autodesk and 3ds Max are registered trademarks or trademarks of Autodesk, Inc. and/or its subsidiaries and/or affiliates in the USA and/or other countries. FlashTM is a trademark of Macromedia, Inc. in the United States and/or other countries. V-Ray is registered trademark of Chaos Software Ltd. in Bulgaria and/or other countries. Click-VR Visualizer is a trademark of Codeblend in Germany and/or other countries.
Contact: Codeblend
Tom Jachmann
Tel: + 49 (0)40 361 950 16
###