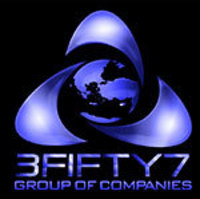 3FIFTY7 is the brainchild of Anthony Melas - aka SNiPER. The only way to achieve the long term success is to be fiercely independent and disrespectful of so called established boundaries
(PRWEB) July 8, 2010
3 FIFTY 7 group of companies has now been officially launched by acclaimed artist Sniper – Anthony Melas the CEO of of 3fifty7.
Sniper has now moved his headquarters to Cyprus creating 'Project Music Island' with 3fifty7. Visit the sensational new website on http://www.3FIFTY7.com
Unique to Cyprus, 3FIFTY7 group of companies consists of
a. 3FIFTY7 Music
b. 3FIFTY7 Live
c. 3FIFTY7 Publishing and
d. 3FIFTY7 Merchandising
3fifty7 is the brainchild of Anthony Melas - otherwise known as 'SNiPER', referred to by industry specialists as the 'Prince of Europe' or 'Europe's Most Wanted'.
After an illustrious career as an artist, writer, producer and DJ, Sniper observed that all was not well within the global music industry.
Be it the lack of communication between music executives and artist's, the disbelief in new acts from the so called 'experts', the poor 'know-how' in developing 'timeless' music, the fear in experimenting and trying new ideas, and above all the steady downfall of the industry which in turn eliminates the 'fun' element of creating music.
Sniper set about creating a concept which captures the fresh and original approach of the golden, boom years during the 1960s, 70s and 80s and incorporates it with the cutting edge technology of today's sophisticated multi-media marketing.
Inspired by the success of Island Record's music mogul Chris Blackwell and his cross border breaking strategy, together with the urban innovation of Rick Rubin and Def Jam, it is Sniper's vision to fuse these and create a version of an innovative, artistic platform on the 'Music Island' of Cyprus for the 21st century.
Log on to our web site and click onto project 'music island'. The map of Cyprus will appear and you will be introduced to all areas of interest for the music enthusiast. From arrival at Larnaca airport to accommodation during one's stay in Cyprus, professional recording studios, clubs, concert venues, professional video and photo shoots, and relaxing opportunities are all shown as a circle of events – alas the name 'music cycle'.
web design, and Internet Marketing Campaigns
Anthony Melas has said 'Music is a lifestyle, a glamorous lifestyle and 3FIFTY7 will take you there.' In fact 357 equals Cyprus."
3FIFTY7.COM
TEL: + 357 23 819810