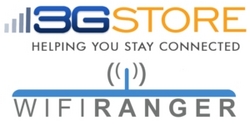 ...customer service needs to be the priority...
Boise, ID (PRWEB) March 14, 2011
BlueMesh Networks today announced that 3GStore.com will be the exclusive online partner to offer WiFiRanger Branded products. 3GStore.com is known for being the best in online retail for Mobile Broadband networking and services. Their quality products and an experienced support team, which is available to their customers free of charge, sets them apart from many other online retailers. 3GStore.com has developed unique knowledge, skills and materials in order to simplify the customer's experience with technical products.
"With our WiFiRanger products, we really have a focus on making them easy to use, and flexible for our customers," said Miles Penrod, Vice President of Market Development at BlueMesh Networks. "When we started discussions with 3GStore.com about carrying the WiFiRanger product line, it became very clear to us that they care about their customers and go out of their way to satisfy them. That's something you just don't see with online stores anymore, and we knew that was the place we wanted our products to find a home."
The agreement for WiFiRanger products ensures that 3GStore.com will be the only online location to find WiFiRanger products and services outside of the manufacturer's own website.
"After speaking with the people behind WiFiRanger, it was clear that they understood that customer service needs to be the priority in our business," stated Michael Ginsberg, President of 3GStore.com. He continued, "We see a partnership with BlueMesh Networks as an investment into customer satisfaction, with products and services designed to solve problems for our customers are asking about."
About 3Gstore.com
3Gstore is a Cary, Illinois based company that has been in business as MDG Computer Services since 1988. 3Gstore is considered to be an industry expert in "all things 3G and 4G". At 3Gstore, businesses can now find everything they need for their enterprise class 3G and 4G solutions. These include 3G devices from Verizon Wireless, 3G and 4G devices from Sprint, 4G devices from Clear, HSPA and HSPA+ devices from AT&T, along with antennas, amplifiers, and routers for all mobile and fixed broadband projects. 3Gstore provides personalized service and advice to clients as well as unmatched technical support. For more information visit http://3Gstore.com, or call 866-3GSTORE or email to sales(at)3Gstore(dot)com
About BlueMesh Networks
BlueMesh Networks is an industry leader in providing turn-key network solutions. The hardware and software solutions offered by BlueMesh Networks allows a network operator to be able to install a network with a full suite of services including billing, network management, client authentication, traffic shaping, and more. For additional information please visit http://www.BlueMesh.net or http://www.wifiranger.com.
# # #