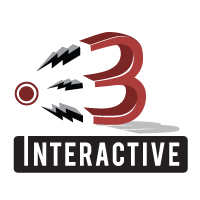 I can't express how excited we are about the launch of our new website.
Columbia, MO (PRWEB) January 27, 2012
A leading digital media agency and network, 3 Interactive, announced the launch of its new website (http://www.3interactive.net) and the formal release of the Magnetic Media Method.™
Within a few short years, 3 Interactive has burst onto the digital media scene and enamored top media buyers and publishers with their extraordinary service, dedication and results. What sets them apart is how they aggressively roll up their sleeves to optimize campaign results. The new website helps to tell this amazing story. On the site you'll find the exceptional services 3 Interactive provides, client testimonials, a blog, and links to their social media channels.
Bobby Campbell, CEO of 3 Interactive comments: "I can't express how excited we are about the launch of our new site and I would like to thank everyone involved for creating something that is infused with the spirit and soul of this company."
The new website also goes into great detail on 3 Interactive's unique approach they call the Magnetic Media Method.™ As the site proclaims, "No one can actually see the invisible force of a magnet. But put a paperclip near it, and anyone will witness its irresistible pull." 3 Interactive's Magnetic Media Method™ works the same way. Merely getting in front of the target is not enough. We aggressively 'pull them in' using a proprietary 3-pronged approach that includes strategic planning, aggressive optimization and pinpoint targeting."
With such a powerful offering, media buyers and publishers are already beginning to, as 3 interactive would say, "feel the pull." In fact, Quantcast has recognized the company as a top five US Network, reaching nearly 100 million unique visitors in the United States per month. For more information on this methodology, visit http://www.3interactive.net/magnetic-media-method.php.
Added Campbell, "What inspires me the most about the new website is that it reflects the spirit of the amazingly smart and capable people who work at 3 Interactive." Find out more about the great staff and powerful thinking behind 3 Interactive at: http://www.3interactive.net.
About 3 Interactive
Founded in 2003, 3 Interactive is a leading digital media agency that offers time-strapped media buyers an effective, affordable and fully integrated approach to planning, purchasing and managing online advertising campaigns.
Their mission is to help digital media buyers maximize campaign results and increase ROI. They do this through sound strategic planning, aggressive optimization, premium site selection, strong rate negotiation, pinpoint-targeting and powerful historical data.
###