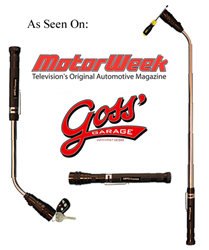 Impeltronics announces Goss' Garage of MotorWeek selects its 3 LED Extendable Magnetic Flashlight as Product of the Year.
Lewisberry, PA (PRWEB) May 19, 2014
Impeltronics is greatly appreciative to Goss' Garage that one of its products was selected and mentioned, at The Chicago Auto Show, as product of the year. This year's Show was attended by thousands of car enthusiasts from all over the world to feast their eyes on all the automotive beauties that continue to catch our attention.
As a gesture of appreciation to all the attending journalists, photographers and top automotive executives, MotorWeek offered a gift bag of goodies. One of the featured items within the gift bag was none other than Impeltronics' 3 LED Extendable Magnetic Flashlight.
John Davis showed much gratitude towards some of the sponsors who made the event possible. Impeltronics invites all readers to review the video link provided below.
IMPELtronics, a wholesale manufacturer of high quality high lumen LED Flashlights, offers everyone a "strategic advantage against the darkness". Whether you're in search and rescue, hunting and fishing or in need of light and magnetism in any application, IMPELtronics invites everyone to "Light the Way".
To view the video please click here: http://www.youtube.com/watch?v=30tSkkWYfYE
To learn more about the product click here: http://www.impeltronics.com/products/extendable-telescoping-magnetic-flashlight/
Media Contact
Michael Pastal
717-440-1680
mpastal@impeltronics.com