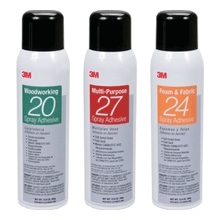 These VOC regulations have an effect on our clients throughout the Northeast and Mid-Atlantic states
Fairless Hills, PA (PRWEB) February 3, 2010
ISC Salesmaster Corp., a supplier of packaging products and equipment, today announced the offering of a new product line of aerosol spray adhesives from 3M™ designed to comply with newer restrictions on limiting Volatile Organic Compounds (VOCs).
The 3M Series 20 Aerosol Spray Adhesives provide bonding solutions for industrial applications and are compliant of both, regulations set forth by the Ozone Transport Commission (OTC) enforcing restrictions on VOCs found in both industrial and consumer aerosol adhesives, as well as SCAQMD Rule 1168.
"These VOC regulations have an effect on our clients throughout the Northeast and Mid-Atlantic states," said Tom Northrop, Marketing Manager at Salesmaster Corp. "Our partnership with 3M allows us to offer the most up-to-date adhesives and bonding products, like the Series 20 Spray Adhesives, to keep our customers compliant and efficient."
The 3M Series 20 Aerosol Spray Adhesives are available from Salesmaster in three different varieties including Woodworking 20 Spray Adhesive, Foam and Fabric 24 Spray Adhesive, and Multi-Purpose 27 Spray Adhesive. Each aerosol adhesive is designed for industrial applications where keeping component costs down is critical to the competitiveness of a product line.
Series 20 Spray Adhesives are available in self-contained, highly portable dispensers that go right to the jobsite without expensive equipment to set-up and maintain. Low soak-in, high-solid formulas provide high heat resistance and substantial coverage to ensure end-product quality. In addition, long open times help reduce waste and keep assembly lines moving.
Series 20 Spray Adhesives offer fast-grabbing adhesion and bonding in a variety of applications and work on surfaces including wood, laminates, metals, plastics, foam, and fabrics.
All Series 20 Spray Adhesives meet CARB/OTC, SCAQMD Rule 1168 VOC requirements. Salesmaster also offers green products from 3M GREENGUARD™ Certified Adhesives.
Salesmaster is currently offering aggressive pricing on all 3M adhesives. Products are in-stock and available for quick delivery. In addition, Salesmaster's experienced personnel can assist in selecting the appropriate adhesive or packaging solution for your application whether you goal is to 'go green' or maximize efficiency. For more information on 3M Series 20 Aerosol Spray Adhesives and VOC regulations, call 215-295-2300 or visit salesmastercorp.com.
About ISC Salesmaster Corporation:
ISC Salesmaster Corporation is a supplier and distributor of packaging and shipping materials, packaging machinery and equipment, janitorial and safety supplies in Eastern Pennsylvania. Since 1970, Salesmaster Corp. has provided industry with products from the most trusted names in the business including 3M, BestPack, Polyair, Shurtape, Wulftec, Storopack, Strapack, and more.
###