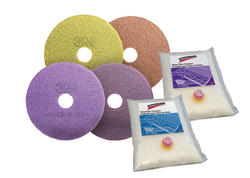 can save you up to 60% on annual floor care labour and chemical costs
(PRWeb UK) March 29, 2011
3M has announced an evolution in floor care, with the launch of its new range of high-performance Scotchgard™ Floor Protectors. Specifically designed for stone and vinyl floors, the new finishes deliver a highly durable shine with less labour, and at a total lower cost, than acrylic floor products. By reducing the quantity of chemicals associated with traditional products they also provide a greener and more user friendly floor care solution.
"A clean, shiny floor speaks volumes about your brand image, but achieving this using traditional finishes is very time consuming and labour intensive" says Leon Edwards, Marketing Manager, 3M Building & Commercial Services Division. "At 3M we recognise that the true cost of floor care is not what you pay for the materials, but what they can do for you in terms of increased performance and productivity. By reducing the periodic maintenance – burnishing, scrubbing, stripping and recoating – associated with acrylic products, our new Scotchgard™ Floor Protectors can save you up to 60% on your annual floor care labour and chemicals costs, while prolonging the life of your floor."
Compared to traditional acrylic finishes, which requires up to four coats on initial application, Scotchgard™ Stone and Vinyl Floor Protectors require only two coats to produce a clean, safe, glossy floor that is less susceptible to scuffs, black marks, stains and scratches than conventional products.
The finish lasts for up to a year with minimal maintenance. Not only is it six times more abrasion-resistant than acrylic finishes; it also resists water, stains and dirt, so finished floors are easily cleaned by dusting and wet mopping. Burnishing is required once or twice a month depending on traffic levels, as opposed to several times a week with acrylic finishes.
And when it's time to reapply, no stripping or deep scrubbing is required – the floor can simply be cleaned and recoated. And only a single coat is re-applied for another whole year of protection.
Scotchgard™ Floor Protectors are easy to apply, and quick to dry - floors can be returned to use in as little as one hour, minimising costly downtime. For optimum delivery, the 3M™ Easy Shine Applicator Kit helps to reduce waste and increase productivity. Its unique 'back-pack' application doesn't require pouring or mixing chemicals, allowing for a safer application with less waste and mess.
Scotchgard™ Stone Floor Protector is designed to use on marble, terrazzo, concrete and other porous stone surfaces. Scotchgard™ Vinyl Floor Protector is suitable for use on vinyl, vinyl composition, rubber, linoleum and asphalt tile floors.
Scotchgard™ Stone and Vinyl Floor Protectors are part of the Scotchgard™ hard floor care range which also include Scotch-Brite™ Diamond Floor Pad, a premium pad which buffs stone and vinyl floors to a brilliant shine; and the 3M™ Easy Trap Duster system which traps and holds six times more dust, dirt, sand and hair than traditional mops and other disposable dusting systems.
Sales Enquiries
Customer Services
3M Building & Commercial Services
Tel: 01234 229 496
Email: commcareuk(at)mmm(dot)com
Website: http://www.3M.co.uk/Scotchgard
Press Enquiries
Leon Edwards
Marketing Manager
3M Building & Commercial Services
Tel: 07919 112 841
Email: ledwards(at)mmm(dot)com
# # #